Bean Bag and Pouffe Making course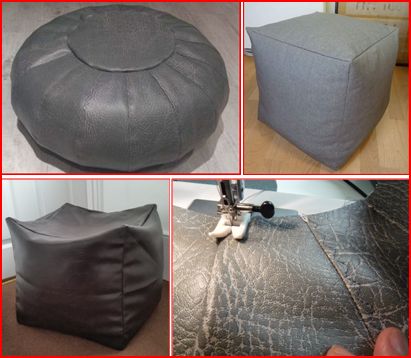 Beanbag/Pouffe
Make a funky cube bean bag or a modern moroccan-style pouffe. Use denim or canvas or learn to work with leatherette. Learn zip closures, circles and cube corners
Level: Improver
Classes Needed: 3-4 (Book Stitch Classes Here, or 1-2-1's Here)
Which Stitch Classes to attend: Any
Content:
Choose to make a cube beanbag or Moroccan style pouffe and learn:
how to sew cube corners
stitching circles
Inserting a zip
And leave with a fab new piece of furniture!
What to bring:
Please email us to let us know which Stitch Class dates you will be making this in and whether making beanbag or pouffe, as we need to bring the sample into the classroom (not enough space in the classroom to store them!)
1.5 metres of denim, canvas or leatherette if your fabric is less than 150cm/60" wide, or only 1m if it's 60"/150cm wide
Note: All fabric needs washing and ironing before class, unless it is 100% polyester or PU/PVC/Olicloth - or the finished item will never be washed. Check fabric content and any washing/ironing instructions when purchasing fabric
A reel of good quality sewing thread matching your fabric main colour eg Coats, Gutermann, Moon etc.
Zip: 14 inch closed end plastic zip for cube bean bag, 12 inch closed end plastic zip for pouffe
To fill: either 1-2 bags of bean bag filler polystyrene bobbles or lots of clean unwanted plastic bag recycling (the eco method!), the contents of some unwanted pillows or lots of fabric scraps or old clothes, shredded - you can leave this and discuss on the first week of the courseas you won't need until the end
A pot of good quality plastic or glass headed dressmaking pins
if you wear glasses for close up work please bring them
If you are bringing your own machine and are using PVC fabric and have a teflon foot, bring it.
We provide: sewing machine (or bring your own if you prefer), scissors, pins, chalk, tape measure etc if you don't have your own
Where to buy fabric: Suggestions of where to buy your fabric locally will be given on your booking confirmation, or to see our list of local fabric shops now click here
Email us with any pre-class questions HERE