Interview with Katy @ Bobbin Along sewing machine shop in Worthing
Posted on
What do you do when your sewing machine breaks?
Should you be proactive or reactive in looking after one?
Where can you get a sewing machine serviced if something goes wrong with one?
These are questions that sewers are faced with whether you are beginner starting out, a recreational sewer or an experienced sewer with years of practice behind you. Using our friends at Bobbin Along, a servicing and repair shop in Worthing, we aim to give you an insight into the importance of maintaining a sewing machine whilst also highlighting which machines can be most trusted in terms of reliability.
With a love of sewing from an early age, Bobbin Along owner Katy has years of experience not only from working in the industry but tips and tricks passed down through two generations. When asked about her background in sewing and where she first developed her keenness she replied:


"I've always loved to sew and learned at quite a young age, my Great Nan was key in this. She was a dressmaker and made gowns for aristocracy. By the time I was old enough to learn she was quite old but she taught me the basics of hand sewing and had the most fantastic button tin!!
My Mum continued my learning by always encouraging me to try things for myself and being there to help if I got stuck. I've had access to her sewing machine since I was about 7. I've always made things for my house and love a project that means I learn a new skill!
As for selling machines; I'd never done that until taking over the shop so it's been a massive learning process for me. I've used every machine I have on display and have spent time on training days so I can run a customer through a demonstration and help with any issues they may have. Both my suppliers have fantastic after sales services so if I can't answer a question I can contact them. I have a very experienced engineer that does the servicing and repairs and he is teaching me so much too. He's been working on sewing machines for about 40 years and he's a real asset to the shop."
So with a wealth of knowledge, coupled with extensive training and working alongside experienced engineers, Bobbin Along seems like the perfect place to go with any of your sewing machine problems!
Concentrating on the servicing and selling aspect of this business, Katy offers some great advice on her favourite machines: how often a service should be carried out and how to best maintain a sewing machine to ensure it remains as good as when you bought it.
Is there a reason you sell Brother and Juki as your main make?
''I have faith in both of these brands. I've had a Brother machine for years and it has never let me down. I wasn't as familiar with Juki but I had heard such good things about them that I was keen to secure a contract for them for Worthing. The shop has history with both brands of machine and I felt it was important to keep this going.''
The image below displays the Brother and Juki sewing machines, which are both available at the Bobbin Along store. However, don't worry if your machine isn't either of these brands as any make or model can be serviced, starting from as little as £40.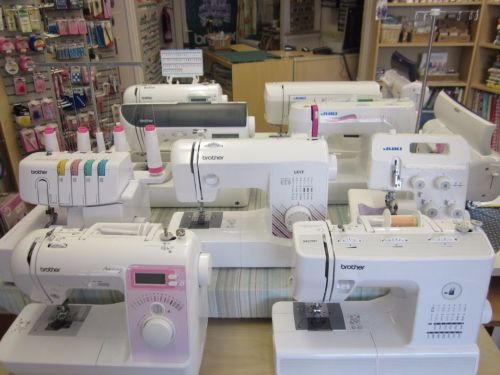 What's the cheapest domestic machine you sell and what features does it lack that the pricier (standard) domestic machine has?
''The cheapest new machine I sell is £99. It is perfectly adequate for occasional sewing, household repairs and alterations. It doesn't have variable length and width of stitch on it and the feed dog cannot be dropped so it's not suitable for everything. If you plan to work on any heavier fabrics, like denim, canvas or heavy curtain fabrics, it's probably not the best machine for you. Personally I prefer a digital machine, the stitch quality is great and for new sewers the speed control is a great feature as it means if you are a little heavy on your foot control the machine won't run away with you!''
Do you recommend a regular service or just come along when there's a problem? If regular how often?
"A regular service will keep your machine in tip top condition, if you use it every day then an annual service should mean it's always sewing to the best of its ability, for more occasional sewing a service every 2 to 3 years should be adequate. Some modern machines have service warnings on them and are set to alert you when you've reached a certain amount of stitches or sewing time.''
Do you have any tips for people to look after their machines well between services?
"Keeping your machine clean is vital so after a good sewing session you should always give it a quick clean out to stop stray lint working its way inside the machine. Clean the bobbin area with lint brush or even a small paint brush and if you have any snagged thread make sure you get it all with tweezers. Using your machine regularly helps to maintain the moving parts as it keeps the oil liquefied. If a machine is left unused for extended periods the grease starts to solidify and ends up like glue, when you come to use the machine again this could cause you problems.''
It would be wrong to let you think 'Bobbin Along' was simply just a servicing and repair shop. As seen from the image below Katy also sells craft weight cotton, which is great for patchwork and is really popular at the moment, often being people's favourite fabric to work with. In addition to this; she also sells sewing and machine embroidery threads, a range of haberdashery and sewing accessories.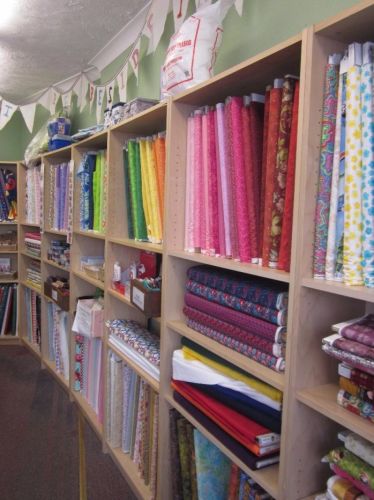 Any last bits of advice?
"In response to 'should I get my machine serviced regularly?' - it's completely dependent on the amount of use it gets. As previously mentioned a recreational sewer should seek a service within a 2-3 year time period of its last service, whereas a machine in continuous use should undergo a yearly check. However, things can go wrong at any time and if you do experience any problems with your machine do pop into Bobbin Along we'll be more than happy to help."
Opening Times and General Information Below
Monday 09.30 - 17.00
Tuesday 09.30 - 17.00
Wednedsay 13.00 - 17.00
Thursday 09.30 - 17.00
Friday 09.30 - 17.00
Saturday 09.30 - 17.00
Sunday Closed
Find: Bobbin Along, 1 The Broadway, Brighton Road, Worthing, BN11 3EG
Call: 01903 200771
Email: [email protected]
Web: http://sewingmachineshop.co.uk/