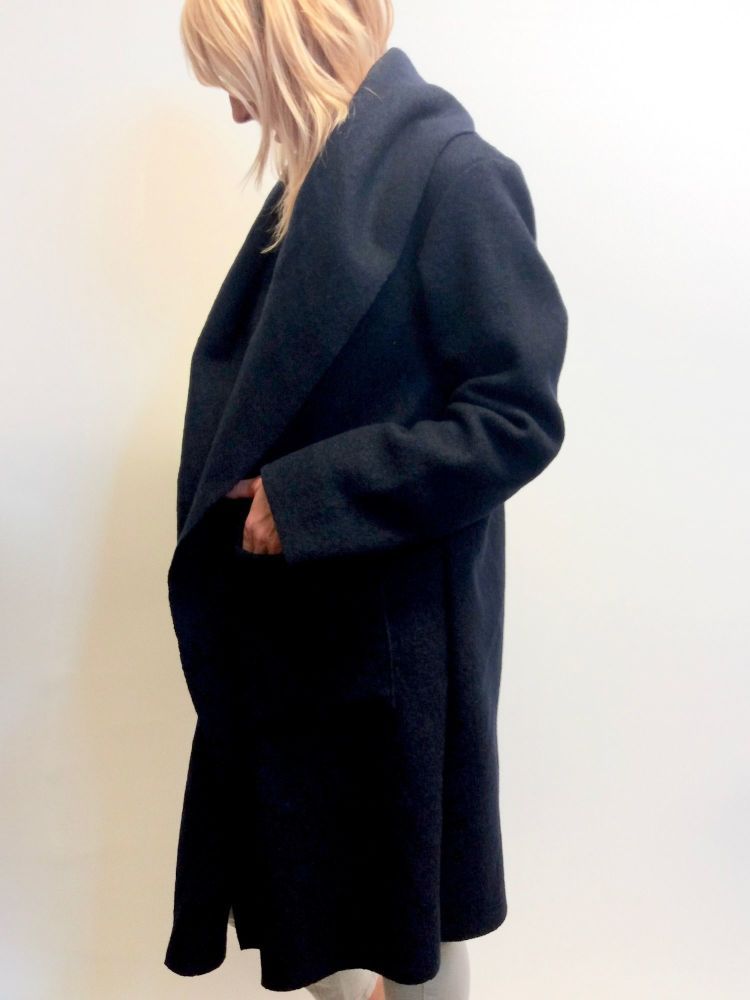 Make this in 3-4 Stitch Classes - book here
Skill level: Improver and above (more info here on levels)
Fabric and notions to buy:
We don't sell garment fabrics ourselves, but have sourced and tested a range of fabrics that we love that would be gorgeous for you to buy for making this coatigan.
Below are options for entire materials needed with a rough guideline of cost for each
n.b. BUY EXTRA if you need to pattern match your side seams/sleeves or want extra length on body or sleeves*:
Luxury wool option: £40 (XS) - £65 (M) for coatigan in this wonderful warm and cosy luxury100% pure boiled wool knit**, comes in navy, rose pink, lime, grey marl, tan & other colours.Price allows for 15% shrinkage on the length (none on width) on a COLD machine wash
Organic cotton option: £30 - £34 (ALL SIZES as fabric is 160-180cm wide &doesn't shrink when washed at 40 degrees) for a coatigan inorganic cotton fleece back sweatshirting - comes in a variety of colours
Budget option: £12 (XS) - £20 (M) for a coatigan in cosy backed sweatshirting (100% polyester). We love this on trend fabric, and it's a great way to test out this project on a budget before remaking in a more expensive cloth.Doesn't shrink in 40 degree wash
Or find your own: must look great from both sides as the collar will be the reverse and have a 56"/142cm usable widthafter washing (ie not including unusable edges/selvedges). See the fabric lengths chart below. You'll also need to find out if it shrinks on the length and width - get a decent size swatch to test
Thread - buy a 100m reel of matching cotton or polyester sewing thread
HOW MUCH FABRIC TO BUY:
Read/download the fabric lengths and size chart here or below. Buy extra: if you want to pattern match your side seams/sleeves or if you need extra length in body or sleeves*
Try ours on first: You are welcome to pop into the Sewing Lounge in and try on our Coatigan samples to see which is the best size for you. Contact us here to find out when we are in
Sizing: We have patterns available in XS (8-10), S (12-14), M (16-18)* and the pattern can be made larger on the day if desired. Its generous fit but bring 3.5m of fabric to allow for a larger size than our M if you think you might need it, to be on the safe side. Read/download the fabric lengths and size chart here
* Extra length on body and or sleeve: Our pattern is 35"/89cm at back neck/nape to hem. If you need more length than, add 2.5 times the extra length you need to the amount of fabric you buy - this will allow for shrinkage when washed too (e.g. if you want 94cm instead of the 89cm it is, buy 15cm extra fabric length (this will allow you 5cm extra on sleeve too if needed - our pattern sleeve length is 72cm side of neck to end of cuff)
**About boiled wool: The beauty of boiled wool and any of these knits is that any garment you choose to make can be left unlined and with a raw edge. There is no need to hem your garment or put facings on them as they will never fray. This boiled wool above is a light weight fabric which will keep you extremely warm in the winter.
***Pattern matching: We recommend plain fabrics for this workshop! If you buy a patterned fabric you will need to buy extra to allow for pattern matching the side seams - also be aware you may not finish your coatigan on the day as pattern matching takes extra time.
Read/download the fabric lengths and size chart here
.