Espadrilles - a project to make in 2 stitch classes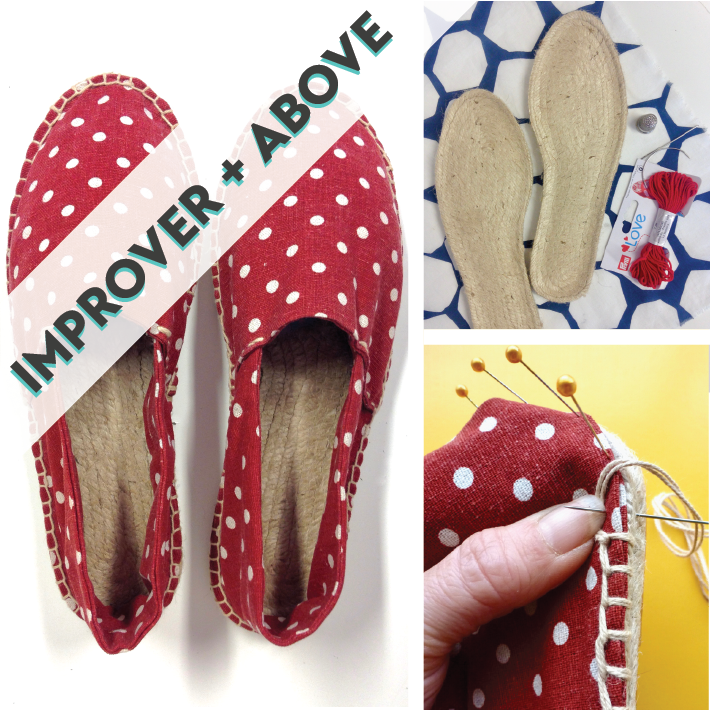 Complete this project in our weekly Stitch Classes or in our one-to-one lessons at a time that suits you.
Level: Improver
Classes needed: 2-3
Which Stitch Classes to attend: Weekend Stitch Classes with Jo Bunner
Bring:
Half a metre of fabric – non stretch medium weight cotton, linen. Not too floppy or silky. Fabric width at least 112cm/44" wide
A small reel of polyester all purpose sewing thread – more or less matching the fabric colour (this is for the machine stitching & you won't see it from the outside)
Espadrille Soles & Thread from Minerva Crafts (then you'll know where to buy more kits later, which you're bound to want to!):
Prym Espadrille soles – one pack in your shoe size £9.99 Minerva Crafts. If you are a half size, go down a size as they are slightly generous in fit. Shop here
Prym Creative Yarn (for the hand sewing) – one pack £2.29 from Minerva Crafts – choose a matching or contrast colour. We used 'Sand' which matches the natural colour of the soles. Shop here
We provide: Needles, instructions, pattern, thimbles
Class content:
Teacher Jo will take you through the entire process of cutting out, sewing and fitting your espadrilles - it is a mix of machine & hand sewing.
The machine sewn sections will be completed on the day, and there will be enough time to completely finish one espadrille. You can then take everything home with you to finish off hand sewing it's pair if needed. To complete your espadrilles at home or make another pair you will need to buy a basic tool kit, shop here.
We will email you a copy of the step by step colour handout you use on the day to use at home after the workshop.
We hope you'll enjoy making these simple shoes so much you will want to make lots more at home!