Gathered Skirt
An easy quick skirt with optional pockets that can be plain or with added lace for more difficulty. Suitable project for all who have completed at least one item previously.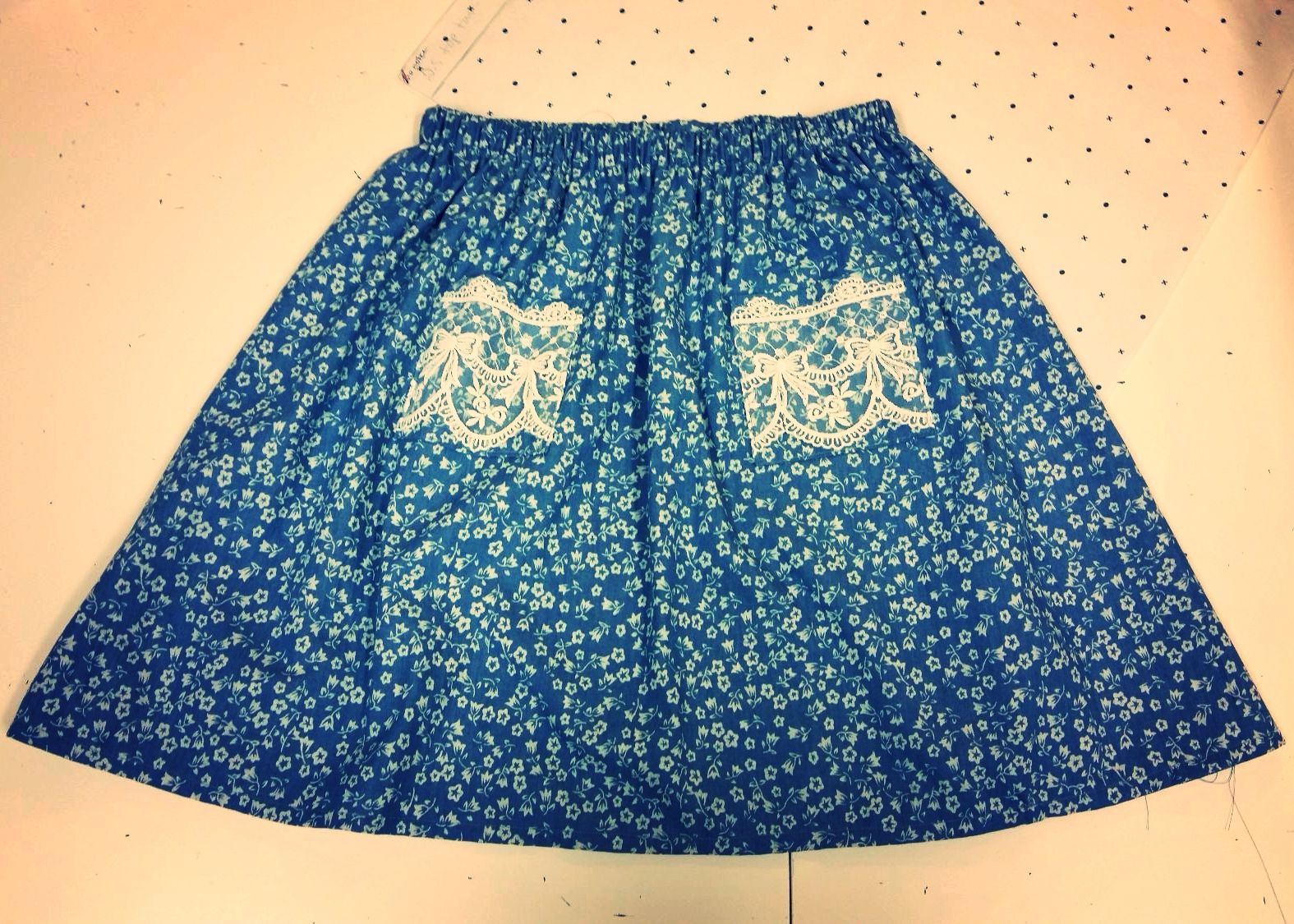 Gathered Skirt
Level: Improver
Classes needed: 2-3 depending on experience
Which Stitch Classes to attend: Create this project in our weekly Sewing and Dressmaking classes, or in our One-to-One lessons at a time that suits you!
About this project: Gathered elasticated waist skirt with optional pockets (and optional lace on the pockets). This skirt is cut twice the size of your waist to get those lovely elasticated gathers

Fabric & notions to bring:

For a body waist measurement up to 54cm
circumference bring
(all fabric widths)
- an 80cm length of fabric for
a skirt 50cm long
or
- a 110cm length of fabric f
or a skirt 75cm long


For a body waist measurement of 55cm-73cm and only for fabrics at least 150cm wide, you can also bring the amounts above
For a body waist measurement of 55cm circumference or above for
bring (all fabric widths):
- 130cm length of fabric for
a skirt 50cm long
or
- 180cm length of fabric for
a skirt 75cm long

Too complicated? Please email us with your waist measurement and mention you want to make this project if you need clarification on how much fabric to bring : )
Also bring:
MEASUREMENTS - if you're making this for someone else bring their waist measurement and what length they want it from their waist to hem
ELASTIC - 2cm wide elastic at least 2cm more length than your waist circumference. Or just bring 1m which is enough for all sizes. White for pale fabric and black if dark

LACE (optional) - 20cm length of 2.5-5cm wide non-stretch lace for pocket tops
THREAD - One 100-metre spool of Polyester sewing thread in a colour to coordinate with the fabric. Or use our thread , bring 50p - although we can't guarantee a colour match!
GLASSES if you wear for close up work


PAPER - bring 50p to buy pattern paper to make your pattern to take home
Email us HERE with any pre-class questions
Book Stitch Classes, 1-2-1's
View our full range of Improver level sewing classes, courses and workshops!