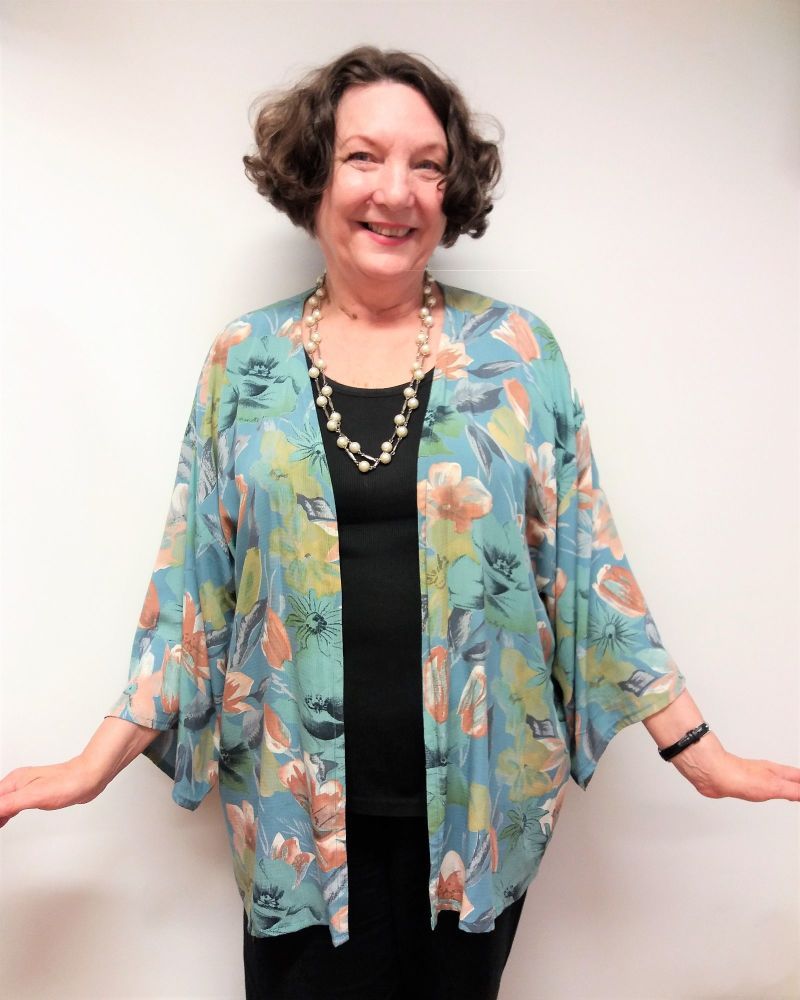 Learn to follow a pattern, sew french seams or overlock, apply bias binding & work with fabrics that drape such as viscose, crepe, satin.
Level: Improver + Above
Class options: 3-5 Stitch Classes or 4-6 hours of 1-2-1 lessons
What to bring:
Find out the washing and ironing instructions for your fabric when buying it. Wash and iron (on the reverse side) your fabric before the workshop.
FABRIC:
Should be medium to lightweight woven (not stretch) fabrics, ideally with some drape - not too stiff. Cotton is best if you are quite new to dressmaking (though it's not that drapey), or if more experienced try viscose or polyester satin - lightweight, printed. See size chart here for quantity
PREPARING YOUR FABRIC:
Fabric needs to be washed & ironed as recommended by manufacturer. If your fabric is s slippery type you will benefit by soaking it in gelatine & drying & ironing it before class - this stiffens it for MUCH easier cutting out and sewing. Read my gelatine guide below**
BIAS BINDING: Choose from 18mm wide bias binding if you want it to show on outside or 12mm if you want it to not show and be tucked just inside the front edge. See size chart here for quantity. Buy 18mm in Fabric Land here or buy 12mm on Ebay here
THREAD:
A 100m reel of all purpose polyester sewing thread, coordinating colour with the contrast fabric + 50p if you want to keep the bobbin we provide you with if using our machines
PATTERN PAPER: Bring £1.50 if covering this workshop in Stitch Classes
GLASSES: if you wear glasses for close up work please bring them
FINDING US INFO: see your booking confirmation's link to how to find us & bring your phone in case of last minute emergency.
SNACKS or LUNCH: you are welcome to bring food for lunch & snacks or bring money to pop out to the numerous local cafes & bakeries at lunchtime. Teas, cordials and coffee are provided all day.
We provide or bring your own: sewing machine (or bring your own - with all accessories, spare bobbins and pedal - please note, we are on the 3rd floor), scissors, pins, chalk, tape measure, unpicker etc.
Where to buy fabric:
Wash & iron your fabric before bringing to class
We suggest having a browse of (non stretch) fabrics here:
The blue print fabric here in the pics is from 'New Fashion Fair' on Gardener St, Brighton (near Komedia)
We also used a gorgeous John Kaldor print satin from Minerva Crafts online for our classroom sample - you'll definitely want to prepare it by soaking in gelatine** as it's super slippery, but soo beautiful
Fabric Land in Brighton have a great range of printed cottons, ideal for beginners, plus some nice drapey viscose prints. Great prices
Head down to Ditto Fabrics in Kensington Gardens Brighton and ask them which of their fabulous fabrics would be suitable for this style.
Or for other shops see our list of local fabric shops. These options will also be on your booking confirmation.
**How to stiffen your fabric with gelatine to make it easy to cut out & sew (it washes out in one wash!):
You'll need: Your fabric, a sachet of gelatine powder, a small saucepan, a larger container to accommodate your fabric, 3 litres of cold water
1. Buy gelatine powder from any supermarket baking aisle
2. stir 3 tsps of gelatine powder into a glass of cold water & leave it to sit for half an hour
3. Pour the mixture into a saucepan & bring it to the boil, then turn the heat off
4. Transfer the hot gelatine to the large container, add your 3 litres of cold water and stir.
5. Add the fabric, leave it in there for half an hour, then take out, wring inside a towel to dry off, hang to dry.
6. Iron without steam on heat recommended by manufacturer (start with 2 dots on a corner to test it)
7. Cut out & make garment
8. Wash garment to remove gelatine