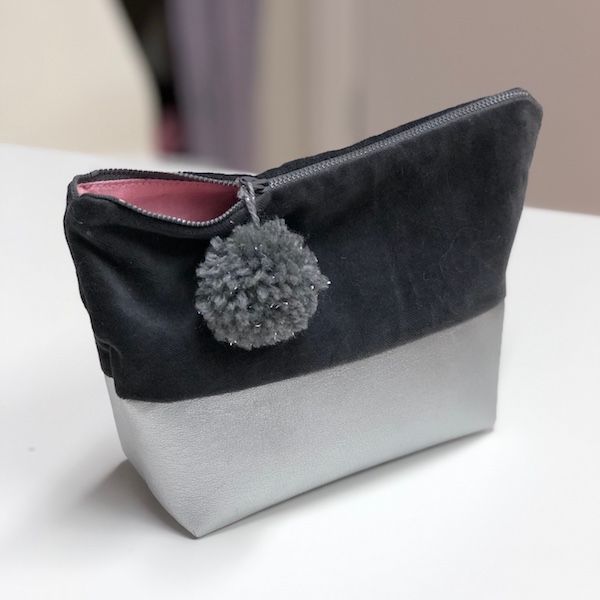 Learn a quick way to put in a zip, add lining, make a flat bottom to a purse and use a pom pom maker for mega speedy pom poms!!
Height 15cm
Base 15cmx6cm
Top edge zip length 21.5cm
Level: Improver + Above
Class options: 2 Stitch Classes or 3 hours of 1-2-1 lessons
What to bring:
Option 1: bring £5 cash to buy all materials needed from us in class to make a purse exactly like this one!
Option 2: Bring your own materials:
(Find out the washing & ironing instructions for your fabric when buying it. Wash and iron (on the reverse side) your fabric before class.)
You will need to bring:
- 8" grey closed end ordinary plastic or metal zip
- 15cm length of non stretch cotton velvet at least 60cm wide
- 15cm length of leatherette at least 60cm wide
- 25cm length of lining material at least 60cm wide or get water resistant 'ripstop' lining from Fabric Land in Brighton or Ebay,
- Polyester or cotton sewing thread matching colour of the velvet as it will show round the zip
- Small ball of yarn suitable for pom pom (we have pom pom makers to use in class)
GLASSES: if you wear glasses for close up work please bring them
FINDING US INFO: see your booking confirmation's link to how to find us & bring your phone in case of last minute emergency.
We provide or bring your own: sewing machine (or bring your own - with all accessories, spare bobbins and pedal - please note, we are on the 3rd floor), scissors, pins, chalk, tape measure, unpicker etc.
See our list of local fabric shops for where to buy fabric locally - you could phone them to check if they have any of the fabrics you are looking for in stock before you head down. This link will also be on your booking confirmation.Ebay is also a great source of fabrics. Many will post samples prior to sending lengths