Roman Blinds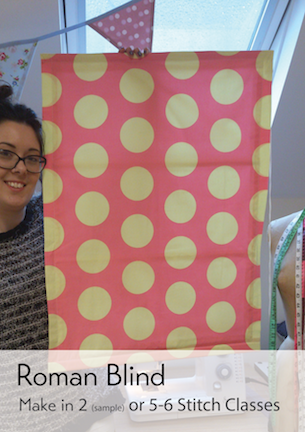 Quickly learn how to plan and make Roman Blinds for your home whilst planning and making a small sample blind.
Or make larger blinds custom sized for your home - read on for details...
"They are fun to make, I've made quite a few for my home since the course and although the really large one had its challenges I'm delighted with this new skill'
Rob Davies
Level: Sewing Improver/Beginner Clothes Maker and Above
Classes needed: 6hr 1-2-1 lesson/s for sample blind, up to 10hrs 1-2-1 lessons for full size blinds.
View more about 1-2-1 lessons here
Experience: You need to know how to thread up & sew basic seams with a sewing machine. You can learn to sew with us before starting this Roman Blind project on our Beginner Level courses/workshops
Sample Blind: Laura will show you how to make a sample 60cm Roman Blind using a basic blind kit and guide you through the process of adding fabric and lining to make a beautiful sample blind to keep. She'll also explain how to plan blinds for any size window and give you the contacts for buying your own kits so you can head off an furnish all your windows!
Larger blind: There is still not space available to make huge blinds in our classroom - email us to ask if you want to make a large blind, letting us know the approximate dimensions. It's also worth noting they are difficult if very big - we would recommend 2 smaller ones for large windows.

What to bring to make a sample blind:
Note: All fabric needs washing and ironing before class, unless it is 100% polyester or PU/PVC/Olicloth - or the finished item will never be washed. Check fabric content and any washing/ironing instructions when purchasing fabric
120cm of non-stretch furnishing fabric, or medium to heavy weight dressmaking fabric e.g. printed cotton.
120cm of calico
A reel of good quality standard sewing thread in a colour that blends well with your main fabric
60cm roman blind kit, or 60cm kits are usually available to buy from us for £18 - please contact us here to check whether we currently have them in stock.
What to bring to make a larger blind:
This will be discussed when it's planned in an initial 1-2-1 lesson as it will vary depending on your blind dimensions
We provide: sewing machine (or bring your own if you prefer), scissors, pins, chalk, tape measure etc if you don't have your own
Where to buy fabric: Suggestions of where to buy your fabric locally will be given on your booking confirmation, or to see our list of local fabric shops now click here
Email us with any pre-class questions here
To Book 1-2-1's Click Here