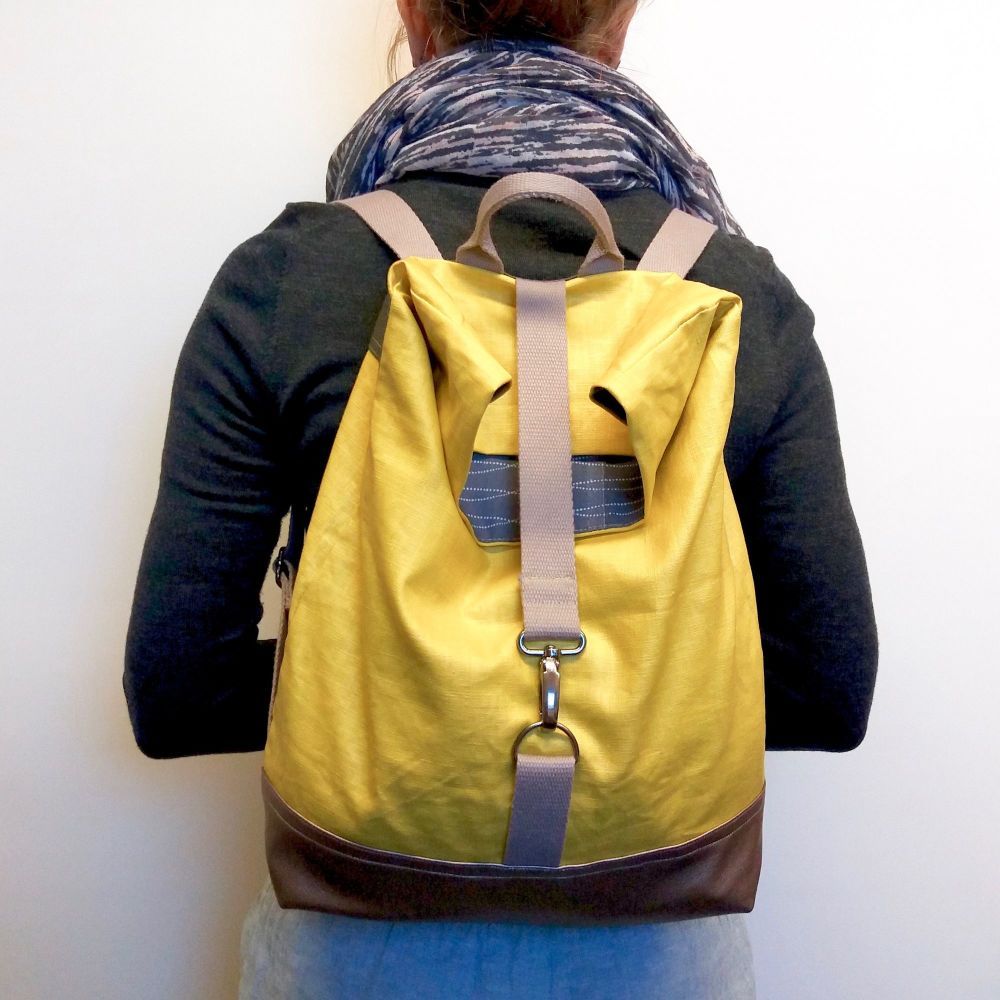 Get confident with following patterns, pinning, cutting out, as well as learning about bag making notions such as zips, D-rings, sliders & swivel clips, magnetic clasps, linings, topstitching. You'll also get a handle on the special techniques & tools used to sew pvc, oilcloth & other waterproofed fabrics.
Level: Improver + Above
Classes needed: 3 x Stitch Classes
Which Stitch Classes to attend: Any
What to bring: For ease you can buy your pattern and all your materials for about £40 from Brighton Sewing Centre (except the optional magnetic bag clip, see below).
Brighton Sewing Centre also designed this lovely pattern, so just turn up there and say you are doing the rucksack project at Sew In Brighton. Say whether you are doing your outer in 2 fabrics (like our yellow sample in the pic) or one fabric only, and they will show you what you need to buy (please say you also need a 6" zip).
These are the things you will need if you want to go find them else where or buy online at Brighton Sewing Centre:
The Backpack pattern from Brighton Sewing Centre - view here
One 6" Zip for your inner pocket (ordinary closed end) colour matching your lining - buy easily locally or online e.g. 30p plastic zip from Fabric Land or a stylish metal one £2.45 from Brighttp://www.brightonsewingcentre.co.uk/brighton-sewing-centre/backpack-pattern.htmlhton Sewing Centre
Thread - a 100m reel of polyester sewing thread matching the webbing or the outer - we used a neutral colour that blended in with everything
Metal Hardware Kit from Brighton Sewing Centre. They usually have a choice of colours. Buy here. It includes: 2 x rectangular rings 32mm for straps , 1 x D-ring 32mm for front fastening , 1 x swivel clip 32mm for front fastening, 2 x strap adjusters 32mm for straps. Buy here.
2 types of webbing ideally from Brighton Sewing Centre as they have a good range and good quality/right thickness: a) 2.50 mtrs x 3cm wide webbing for straps.
b) 40cm x 5cm wide webbing for back of bag. Buy here
Fabric Outer Design Options*:
1. Outer all in one fabric:- If making your bag in all one fabric, bring 0.6m if fabric is 120cm or more wide. Or 1m if fabric is 112cm wide. See * below for what we used
2. Outer in 2 fabrics:- If making the base in a different fabric e.g. waterproof metallic polyurethane* as on our sample, bring 0.6 mtr for top half and 0.3 mtr for base
Lining* - 0.6m eg from Fabric Land for £5 per m or £? from Brighton Sewing Centre
Optional - approx 20mm Magnetic Bag Clip to clip closed the top edges of your bag in addition to the strap that holds them shut: Get a 19mm one for about £2 + £1 p&p online here, or Fabric Land do a slightly smaller one in gold for £1 (online - call store to check stock)
*Suitable fabrics for the outer are medium weight PVC, denim, cotton, oilcloth or waterproofed linen. Brighton Sewing Centre sell a fantastic range of modern durable fabrics for this pattern - we used their coated waterproof linen for the main outer and metallic polyurethane for the base, plus a print from their range 100% cotton fabrics for the lining. Do go take a look