Trousers
"I now have trousers which actually fit! For the first time ever."
Tasha Mellins-Cohen, Trouser Fitting course student, Brighton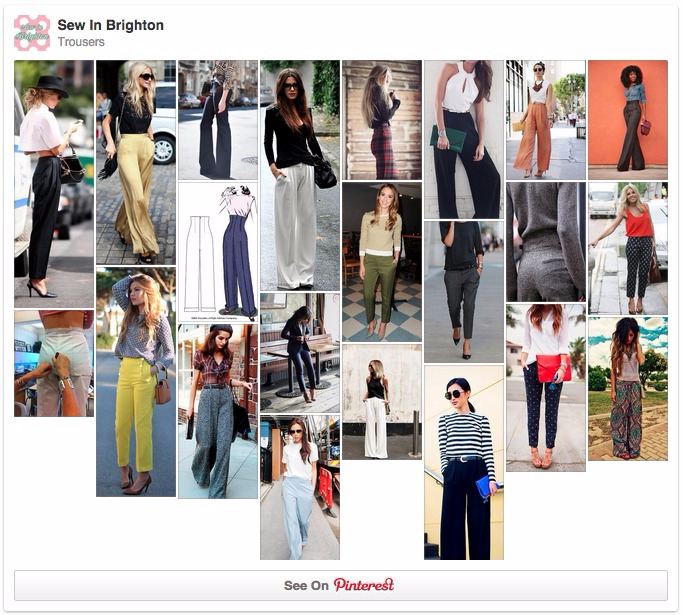 Is it time to get some trousers that REALLY fit?
With our expertise on measuring and adjusting the pattern you'll leave with a great fitting pair of trousers, which you can make again and again from your pattern, in a range of fabrics and slight adjustments, if desired, to waist, leg shape, pockets etc. It's all about the fit - for your unique figure shape!
Complete this project in our Weekly Stitch Classes or our One-to-One lessons at a time that suits you!
Level: Intermediate - you have made at least 2 items of clothing previously

Class options:
(no. of classes depends on profiency, homework done, style of trouser, fitting issues etc).

6-10 Stitch Classes - available daytime, weekend or evenings


4-20 hours of private 1-2-1 lessons - depending on how much you want us to help you and how much to do at home after or between classes. Times and dates that suit you - option to have classes at your home if local-ish.
What to bring:
£8 for the pattern (MCCalls M6901)
3m calico fabric or in an inexpensive medium weight cotton fabric to make a potentially 'wearable' toile (mock-up to check fit). It must be 100% cotton (not curtain lining, sheeting or other substitute as these are often mixed content and can distort when ironed). We ususally have some calico for sale for £4 a metre - email us to check stock levels with us here before you come to class
Wash any fabric you are bringing and iron it before coming if you plan to wear the trousers made from it if fit works out well. Calico does not need washing as it will not be worn and washed
Wear to your classes:

a fitted but not too tight vest top
leggings to fit the pattern over (check they don't pull your body in and change your shape!).
Wear the shoes you'll wear with final trousers so you can think about best length of trouser hem

bring along whatever top type you plan to wear tucked into the trousers to show your teacher

Glasses if needed for close up work
Thread: One 100m or more reel of contrast thread for toile (so you can see it to unpick if needed!) - or use ours for 50p per garment
50p for each bobbin you use (if using our machine) if you would like to keep it
Interfacing: 25cm medium weight fusible for waistband or facing (white if using pale fabric for wearable toile, black if using dark fabric). We sell half meter packs of interfacing for £3 in class (cash)
A pot of good quality dressmaking pins so you can take your project home to work on (we sell nice long steel bobble headed pins x144 for £3.50 a box and magnetic pin-cushions for £7 cash in class)
Bring trousers that fit well that you already have, or indeed those that don't - basically bring your own trousers with you to show teacher as may be helpful!
Sewing machine: You can bring your own or use ours. We are on the third floor so we recommend using ours which are Janome 725S & 525s's, less than 18 months old, reliable, standard style machine and very easy to use
We also provide (or please bring if you have your own): magic tape, pencils, colour fineline pens, paper and fabric scissors, chalks, tape measure, spikey tracing wheel, grader ruler. We also provide 5mm foam boards for pinning patterns to for adjustments.
Where to buy fabric: Suggestions of where to buy your fabric locally will be given on your booking confirmation, or to see our list of local fabric shops now click here.
This project will include these activities:

Getting the pattern right in steps 1-4 below usually take 4-6 hrs in 1-2-1 lessons
The making of the final trousers in good fabric and zip, waistband etc takes 14-18 hours of cutting out and sewing time (6-8 Stitch Classes or several hours of 1-2-1 lessons, which can be split up to allow some of the hours to be done as homework)
Measure your body to choose right size basic women's trouser 'fitting' pattern
Prepare pattern for Tissue fitting
Adjusting pattern on your body and then flat, including moving darts, taking in, adjusting crotch shape etc
Cut out and sew a calico or cotton fabric toile (mock up), fit, then draw adjustments back onto pattern, possibly making second toile or part toile to check
Produce a pair of trousers (pockets optional if you have time and skills to fit this in) with zip and waistband
Optional in extra classes:
Ask teacher for theory or practise on how to change the leg shape, waist, pockets etc in future pairs of trousers if desired (depends on time/no of classes)

Make a second pattern (and garment if time allows) with different design details, leg shape etc