Vest Top / Camisole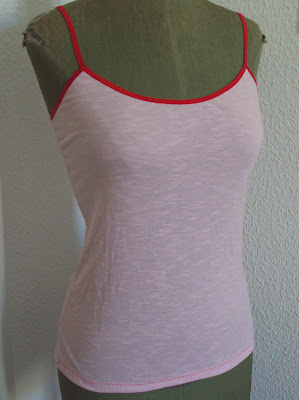 Vest Top / Camisole / Singlet by 'So Zo' blog
We will take you step by step through the process of making your own vest/camisole/singlet. The garment can be made from jersey fabric or by reusing unwanted T-shirts, we can show you how to do either, or both!
Create this project in our weekly Sewing and Dressmaking classes, or in our One-to-One lessons at a time that suits you
Level: Improver
Classes needed: 2
Which Stitch Class to attend: Any
Bring:

1 metre of jersey fabric (T-shirt weight, preferably with elastane/lycra content) or some large unwanted T-shirts (preferably men's or size large)
Note: All fabric needs washing and ironing before class, unless it is 100% polyester or PU/PVC/Olicloth - or the finished item will never be washed. Check fabric content and any washing/ironing instructions when purchasing fabric
2.5m of 5/8" fold over elastic (Ebay do loads) OR stretch lace
Your glasses if you need them for close up work
Bring 75p for the pattern paper you'll use to trace off our patternEmail us HERE with any pre-class questions
Email us HERE with any pre-class questions
Thanks to Zoe at sozowhatdoyouknow.blogspot.co.uk/ for this pattern!