Welcome to Sew In Brighton...
Sew In Brighton sewing school was founded by ex London Fashion designer & clothing manufacturer Kat Neeser and offers weekly classes, courses, workshops & 1-2-1 lessons.
We teach sewing, pattern cutting, knitting, crochet and home furnishings from our Hove classroom. There's something for all levels, including absolute beginners.
"I've learnt all the tips and tricks you would never get from a book or YouTube! The teacher was so lovely, supportive and knowledgeable and it's a cheerful well equipped space." Lucy Mott, Occupational Therapist, Brighton

Frustrated with the fit, quality or price of clothes in shops?... or challenged by the fit and finish of your own clothing creations?
In class we'll help you create great fitting, original clothes, no matter your shape, size or previous sewing experience!
Browse clothing & accessories courses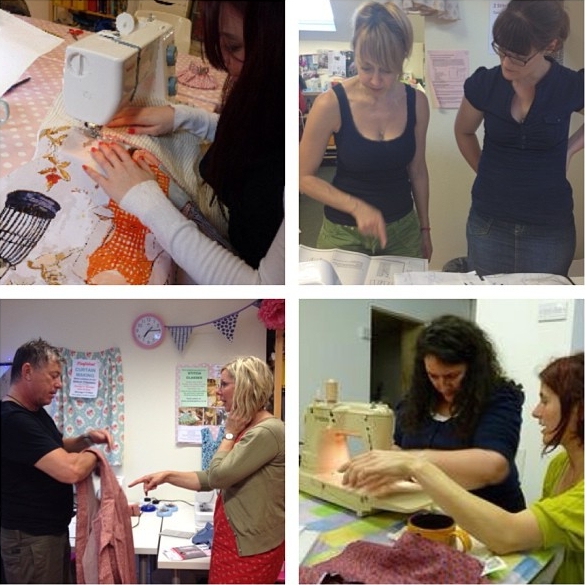 Want to learn to sew...or stuck with a sewing project?
We'll get you unstuck and take your sewing or dressmaking to the next level - and we help Absolute Beginners conquer their sewing machine (or one of ours) and make a cushion or bag in one to two classes
Browse all weekly classes
Browse Absolute Beginner classes

Love home decor & soft furnishings?
Take a look at our range of courses and classes that teach you how to to make beautiful custom home furnishings such as cushions, curtains, blinds & more
Browse home furnishings & decor courses
Sign up to our newsletter at the bottom of the page to stay in touch with offers, new courses, sewing tips and news
*Special Offers this Autumn on October Courses and Workshops*

Learn how to quickly and easily make your own fabulous 'drum' lampshade.
Sunday 2nd October 2.30-4.30pm

Make yourself a modern, tailored lined jacket that fits you beautifully.
8 x Mondays 7pm - 9.30pm October 24th to December 12th

Learn all the specialist techniques for working with leather, while making yourself a gorgeous bag.
Saturday 1st October 11-5pm

Plus optional Customising class in
the afternoon
Come along and swap your nice but unwanted clothes over a cup of tea with like minded local folk

We'll show you the quickest easiest way to make a beautiful corset - could be part of a wedding or evening dress!
Click on the type of sewing that interests you below to see the full range of class options

Not sure what to make? Stuck for inspiration, or just want to browse ideas?
Take a look at our Project Ideas!