Give the Gift of Creativity with a Sewing Class Gift Voucher
Know someone who'd love to do a bit of sewing or pattern cutting?
Or stuck for what to ask for for yourself?
How about a Sew In Brighton Gift Card! Read on for how it works...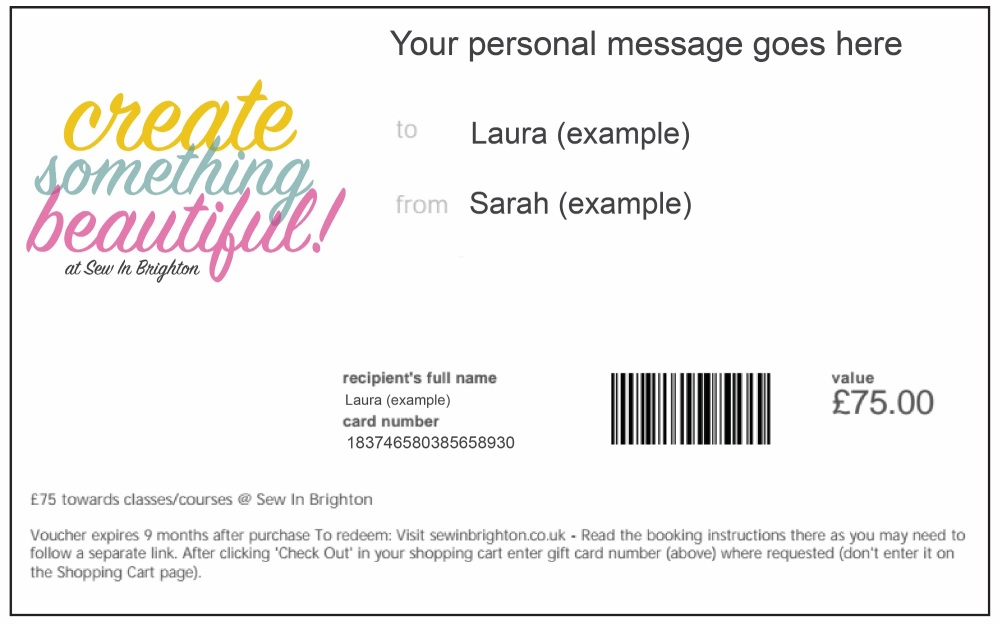 If you are purchasing someone a custom amount gift voucher (gift card) that you're hoping they'd like to use towards a specific course, you can mention the course name in the notes section of the voucher!
Here are some examples of what a Sew In Brighton gift voucher can buy
What amount? Have a browse here through the sorts of classes/courses/workshops we run to get an idea of prices
Note our terms: By making a purchase you're confirming that you're happy with our gift card booking terms at the bottom of the page
Click 'Buy a Gift Card' below - opens our gift card booking page in a new tab
Select the desired gift card amount from the drop down menu - for a custom amount select any of the 'Custom Amount' Gift Cards & edit the amount before buying
Fill in your gift card, then payment details when requested. You can mention any specific course they might like in the notes
Please note: You can choose to have a digital copy of the gift card sent to the recipient's email on a specified date by ticking the 'Send recipient gift card via email' box and filling in the required fields. If you do not tick this it will be sent directly to you.
Check you receive a payment receipt email which will have the card attached if you elected to have it sent to you - if so you can print and give as a gift, perhaps in a nice greetings card!
Please contact us

if you do not receive your reciept as your booking may not have processed properly
Booking terms:
This Gift Card can be used as full or part payment for any items on our site i.e. any classes, courses or products
Any suggested course or class prices above are full prices - you may be lucky enough to get an early bird or other discount when you go to book
If the value of your purchase does not use the full amount available on the voucher then any remaining balance will remain on the voucher, which can then be used against future purchases
We cannot guarantee a course price will remain the same between date of voucher purchase & date of using it to pay - if the price of the course or class has increased the extra can be paid by credit card at time of booking
Gift Voucher expiry is 9 months - please note the expiry date on the voucher
Booking terms for classes apply to all class bookings made using this voucher
How to book using your gift voucher (for gift voucher recipients)
Have a browse

here

through our

classes/courses/workshops

O

nce you find a class/course/workshop you'd like to book using your Gift Card, scroll down to the bottom of that page to where it says

'Important - please read before booking' - on certain courses there's a special link to click to book using a gift card

Next, you will need to enter your gift card number when prompted on the 'Check Out / Place Order' page that you go to after clicking 'Check Out' in your shopping cart. n.b.: don't enter it on the Shopping Cart page as the box there is for promotional codes, not gift cards

Contact us here if you have any trouble