About Sew In Brighton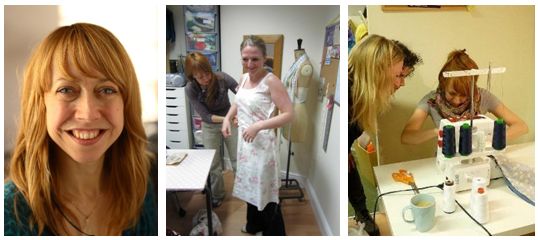 Sew In Brighton sewing school runs 10-12 classes, courses and workshops every week in Brighton & Hove for all levels - from Absolute Beginner to Experienced stitcher - including making & fitting clothes, learning to sew from scratch, overlocking, knitting & crochet, pattern cutting, designing, lampshade making, alterations and much more.
We have a team of friendly and encouraging teachers (including owner Kat Neeser) who have a variety of skills and expertise on a huge variety of subjects. Read more about our teachers here
Bring your own sewing machine or use ours. We have new Janome 525s machines and a range of Janome overlockers for use in class
Sew in Brighton owner and teacher Kat Neeser (above) has 33 years experience of fashion design & illustration, sewing, pattern cutting and alterations. She founded her own fashion label, Wit & Wisdom, which she ran for nine years in London - including: a retail shop, clothing design & production unit, 200 high street concessions in Top Shop, Miss Selfridge & Debenhams and an international wholesale business.


Kat (on the right) in the 1990's in her fashion design and production studio for Wit & Wisdom
Kat has been teaching sewing and pattern cutting in Brighton since 2008 and is particularly excited about helping students to make great-fitting, original clothes. Since its launch in 2008 Sew In Brighton sewing school's range of courses, workshops and classes have helped hundreds of people go from absolute beginner to confident and creative stitcher - making & altering their own (and family's) clothes and soft furnishings, meeting like-minded locals & finding a wonderful way to relax
Click here to view all our current classes or scroll down to find out more about us
Teaching venues

What are our classes like? 1.5 min video




"I started out taking Making Clothes from Patterns and in five weeks transformed from someone who had last used a sewing machine 15 years ago and was a little bit scared of the whole process to someone who could confidently set up her own machine, sew in straight lines (and curves!), understand the language of patterns, size up myself and the pattern correctly and understand how to put it all together!"
Hannah Wilkins on Google Plus

"I completed the learn to use a sewing machine course at the end of August, and as a complete beginner it was fantastic. I came away with a cushion cover, a little zip purse and a drawstring bag and last but not least a newly found love of sewing. With a small group, it meant we were provided with a personal touch, the chance to ask questions and make sure we understood. I have since bought a sewing machine and have been practising loads. Next step, clothes and patterns!"
Beth Mowlam on FreeIndex.co.uk
Follow us on Instagram