Where to buy fabric, patterns and notions/trims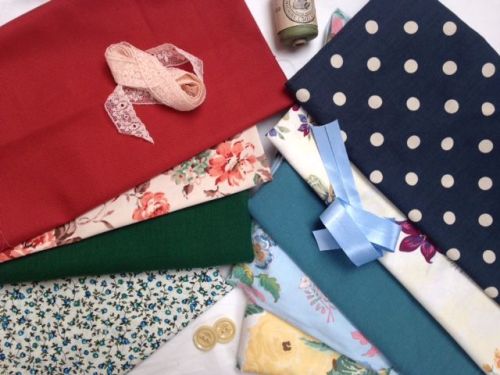 Page Menu
Fabric shopping / washing advice
Local physical shops
Online shops
Kit for fashion design
General supplies
Overlocking threads
Eco friendly fabrics
Fabric Shopping & Pre-Washing Advice
You need to wash and iron all your fabric before your class, in the way that the garment/item will be washed and ironed when it's finished. Fabric can shrink in the wash - cottons often up to 5cm in length per metre plus some on the width! Therefore, when buying your fabric we'd recommend that you buy extra 50-100cm in length, in case fabric shrinks when washed and/or you need to pattern match.
Don't wash denim and corduroy in the machine as it gets permanently creased. We would recommend that you hand wash it, maybe in the bath for long lengths. Then ring it out by hand and dry as usual.
You can test-wash fabric by cutting two 10x10cm squares, just wash one and iron/hang dry to see if it has shrunk
Sussex Fabric, Haberdashery and Sewing Pattern physical shops in Sussex
Please contact physical shops before visiting to check opening times/if they are still trading (let us know if they are not and we will update the page)!

Brighton and Hove, East Sussex, UK
We sell a small range of new, reclaimed and vintage fabrics in our classroom for use in our beginner sewing classes and courses & Stitch Classes for making items such as cushion covers, purses & bags (£5 mtr cash paid to teacher in class). We also have a few 6 inch zips (£1), cotton tape bag straps (50p). Plus we sell magnetic pincushions (£7), pins (£3.50) and grader rulers (£15)
Fabric Land on Western Rd Brighton is cheapest for EVERYTHING and has a large range of commercial garment patterns. fabricland.co.uk/brighton.htm | 76 Western Road, Brighton, West Sussex BN1 2HA (next to Robert Dyas, near Argos)
01273 822257


Ditto Fabrics ***Get a 10% discount flyer from us for Ditto Fabrics when you're next in class***
Ditto on Kensington Gardens is a Brighton institution & has lovely end of line designer fabrics at affordable prices, plus trimmings such as ribbons, feathers, and buttons. 21 Kensington Gardens, Brighton BN1 4AL dittofabrics.co.uk 01273 603771


Closs & Hamblin (C&H Fabrics)
***Get a 10% discount flyer from us when you're next in class - for use in the Brighton C & H store***
Wealth of dressmaking fabrics, quilting fabrics and tools. Plus mannequins, sewing machines and a huge haberdashery. Website: www.candh.co.uk/our-stores/brighton | Tel 01273 321959

Brighton store: 179 Western Road,Brighton,East Sussex,BN1 2BA.
Horsham store: 7 West St Horsham, West Sussex RH12 1NP



Brighton Sewing Centre in the North Laine sell machines, beautiful fabric, notions. Also repair machines.
68 North Road, Brighton, East Sussex BN1 1YD | 01273 621653.


Fabric Family ***Get a 5-10% discount when you mention Sew In Brighton sewing school***
Based in Imperial Arcade opposite Churchill Square, Brighton, Hassen and Vesi of Fabric Family sell a massive range of haberdashery and some good basic fabrics at good prices. Has to be seen to be believed! 14 Imperial Arcade, Brighton, BN1 3EA
Visit their Facebook page here
Oh Sew Ditsy - online fabric shop and local Hove business. Sells high quality natural fabrics for dressmaking and craft. http://www.ohsewditsy.co.uk/
www.facebook.com/Oh-Sew-Ditsy-290299577760695


Fabric Godmother is an online fabric shop based in Portslade. She sells fabulous, reasonably priced dressmaking fabrics along with all the other bits you need (patterns, habby etc). She also has regular open days. Shop online at fabricgodmother.co.uk/open-days/
Buttons and Bows in the Open Market sells selection of fabric, notions, ribbons etc.
Unit 7 Open Market London Road, Brighton | Tel 07857 470034


Love That Stuff Fairtrade shop in Brighton Marina (maybe closed - we're finding out) has some lovely fairtrade fabrics sourced from Nepal. 9 Mermaid Walk, Brighton Marina, Brighton, East Sussex | [email protected] | 01273 675778
Leather suppliers:

Clever with Leather: leather pieces and also they offer repairs to suitcases, bags and belts made to order. 28-29 Tidy St Brighton, East Sussex BN1 4EL. | Tel - 01273 462460
Express Repairs: 37 Blatchington Rd BN3 3YL. Tel 01273 763945. Owner Mr Levent has lots of skins in basement £3 per sq foot. He also sells clasps, buckles, D-rings etc – go in between 9.30 and 1.30 Mon-Sat to see him as his staff (manning the shop after 2pm) are not able to sell the skins
Leather4craft Limited in Newhaven/online leather4craft.co.uk



Dragonfly Fabrics dragonflyfabrics.co.uk/ (Online company also open by appointment and with regular open days). Fabrics include a lovely selection of natural linen fabrics including eco or bio linens as well as a large range of boiled wool, cotton fabrics (including cotton jersey fabric) voiles, corduroys, jersey knits, cotton flannels along with dress patterns and haberdashery.
1 Southview Villas, East Street, Mayfield, East Sussex, TN20 6TX. 01892 - 731 087 Map link here
The Fabric Shop Ltd thefabricshops.co.uk The Showrooms, 55 Chapel Road, Worthing BN11 1EF, Shop line 01903 207389

Foam for seating etc:

Brighton & Hove Foam Co Unit E1 Knoll Business Centre, 325-327 Old Shoreham Road, Hove, East Sussex, BN3 7GS
01273 711 499 brightonandhovefoamco.co.uk. Custom cut foam to your requirements. Specialist foam cutting company covering Brighton, Hove and East Sussex. Map link here
Foam & Fabrics 27 Broad St, Seaford, East Sussex BN25 1LS 01323 893716 foamandfabrics.co.uk Denise and her team have a wonderful range of Fabrics, Upholstery Sundries, Trimmings, Haberdashery, Foam, Fillings, Curtains
Please let us know here if you have a fabulous fabric shop in your area you think we should add!

Looking for fun & friendly sewing or pattern cutting classes in Brighton & Hove?



Lewes, East Sussex
the-stitchery - An attic emporium stocked to the rafters with haberdashery, fabric and knitting yarn, and home to the-S box
We're upstairs in the historic Riverside building in the centre of Lewes
12-16 Riverside, Cliffe Bridge, High Street, Lewes BN7 2RE
www.the-stitchery.co.uk
[email protected]
01273 473 577
facebook @TheStitcheryLewes
instagram @stitcherylewes
twitter @stitcherylewes
Horsham, West Sussex, UK
C&H Fabrics

-

For curtain fabric, wool, haberdashery, craft materials and a selection of dressmaking fabrics. Can make up curtians in your chosen fabric and offer a free home measuring service. https://www.candh.co.uk/ Tel: 01403 242127
John Lewis - Good quality fabrics for curtains, blinds, upholstery and a small selection of dressmaking fabrics. Also some sewing machines and accessories. Albion Way, Horsham RH12 1LP Tel: 01403 214 740
Crawley, West Sussex, UK
The Cloth Store - A good variety of dressmaking fabrics and haberdashery and good value. 40 Queens Square, Crawley RH10 1HA
Hobbycraft - Large store for arts and craft projects with a small selection of commerical patterns, sewing and dressmaking fabrics and sewing machines. County Oak Retail Park, London Rd, Crawley RH11 7XN
Jills Sewing Room - Good haberdashery especially for cotton fabrics. 24 Broadwalk, Crawley RH10 1HQ
Montgomery (Debanhams) - A selection of curtain, blind and upholstery fabric of good quality. In Crawley County Mall
Tunbridge Wells, Kent, UK
C&H Fabrics - For curtain fabric, wool, haberdashery, craft materials and a selection of sewing and dressmaking fabrics. Can make up curtians in your chosen fabric and offer a free home measuring service. https://www.candh.co.uk/
World of Sewing - An extensive range of sewing machines as well as haberdashery and accessories. 56-64 Camden Rd Tunbridge Wells http://www.worldofsewing.com/
Sew Essential - the online sewing superstore.For dressmaking patterns, sewing machines, haberdashery and morehttp://www.sewessential.co.uk/
Leather 4 Craft (online): Stocks a wide range of leather for all your craft projects, bags, purses, wallets, I phone cases, journal covers, bookbinding, belt and strap blanks, upholstery, and many more crafts, All trade inquires welcome from a single hide. Also offers custom made leather inserts for desks, bureaus, writing boxes, and occasional tables, in a range of seven colours with various tooling designs. http://www.leather4craft.co.uk/

Beads Unlimited The iconic Brighton Bead Shop closed in January 2016, but their website sells the full range. The shop was at 21 Sydney Street in the North Laine since 1986 serving generations of creative minds all of their beading needs. All sorts of shapes, sizes, colours and materials in beads, findings, charms, stringing, tools and kits at www.beadsunlimited.co.uk
To keep up to date with offers and new lines, sign up to their mailshot or follow on social media; just search 'beadsunlimited'.


Looking friendly & welcoming sewing or pattern cutting lessons in Brighton & Hove?




Kit for Fashion Design:
Design & Pattern Cutting students or for replicating your clothes:
Calico - best and softest is from Buttons & Bows in the Open Market. 60" wide. £4 metre when we last checked - see above for shop details
Spot and cross pattern paper 50p per metre from Fabric Land. You can buy from us in class for 75p a metre. Can also be bought online in 10 and 150m metre rolls from William Gee here
Grader Ruler - you can purchase Morplan graders at The Sewing Lounge for £15 cash (ask teacher) or they are £8 plus postage (minimum Morplan order £20 + postage): Click here to see/buy at Morplan. Do not buy any other brand of grader ruler! They are not as bendy, they snap easily and measurements are not so well laid out/useful
Tracing wheel – BUY from Amazon. £7.99 - free postage: Click here to see/buy online. I recommend putting a blob of superglue on the screw as can come undone.
Pattern cutting book Metric Pattern Cutting for Womenswear by Winifred Aldrich: Click here to see/buy online
You may want to put your final 'block' pattern onto cardboard so it can be reused easily. You can buy pink pattern card from us for £1.50 a metre or Clarkes Stationers on Bond St do a suitable A1/A0 size card called 'Snowdon Cartridge' for 99p


General supplies
This is where I currently get the studio supplies, though do check Ebay and Amazon for better deals or if these links no longer work
Wax chalks (good for marking jersey and wool) - buy on Ebay here or at Fabric Family, 14 Imperial Arcade, Brighton BN1 3AA
Pins - we sell nice long steel bobble head pins in generous boxes of 144 for £3.50 in class (cash)
Magnetic pincushion - we sell the super handy magnetic pincushions we use in the classroom for £7 in class (cash)
Wash out double sided tape is brilliant to use instead of basting or on non pinnable fabrics like pvc. We buy from Amazon: rebrand.ly/dbltape
20 Bobbins for Janome bobbin case or toploader - click here. Or buy single bobbins* from us for 50p each in class (cash)
Masking tape (this is for 10 rolls though - you might be better off at your local DIY shop for a single roll) - click here
Sewing threads: For excellent value bulk buy of assorted colours of Moon brand 1000yd spools click here. Or buy Coats 100 - 500metre spool thread from Fabric Land in Brighton
Lace, ribbons, threads - all haberdashery with inexpensive postage: http://www.ribbonmoon.co.uk/
Unpickers: Buy from Fabric Land - address above
Chalk pencils - buy from Fabric Land - address above (get a pencil sharpener too from a stationer)
Berol fine tip pens for marking new lines on patterns - from a local stationers eg WH Smith
Roman Blind Kits - for an extensive range of good quality corded roman blind kits from Roomserve - click here
60cm wide blind kit: £12.95 + £6.95 postage (60cm is the size you need to make the sample size blind in Stitch Classes - it's provided on the workshop)
Sewing patterns online: Try the local stores above or www.sewessential.co.uk
Dressmaking patterns in larger sizes:

Reasonably priced downloadable patterns catering for bust 40-56" and hips 42-58": www.cashmerette.com/collections/cashmerette-patterns
Paper dressmaking patterns up to UK size 28: https://weaverdee.com/collections/patterns-plus
We recommend Jaycotts for buying overlocker threads. They charge £1.50 postage & their prices are always cheaper than everyone else for good quality products:
Buy 1000m reels
here
Buy 5000m reels
here

If you want a different range of colours of the 5000m reels Sew Essential are slightly more (not much)
here
. They charge £1.50 - £2.50 postage
Sewing with eco-friendly fabrics, thread and patterns
Look for some or all these marks when buying fabric to know it's eco-friendly: Green Mark, ISO14001, ISO9001, Oeko-Tex, OSHAS18001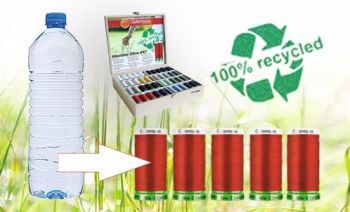 Interested in sewing or pattern cutting courses & workshops in Brighton & Hove?