Curtains
Concerned about the cost of buying curtains for your home? Learn how to make your own! It's surprisingly easy!
With our help you can learn the planning and making techniques either on a small 'practise' curtain or full sized curtains for your home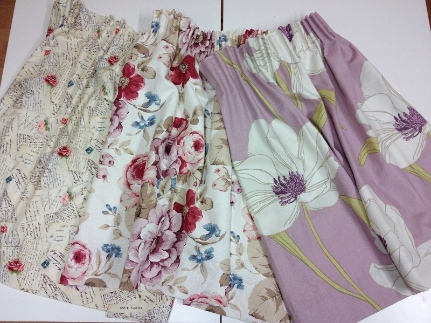 Curtain making classes needed:
Book 2-3 Stitch Classes or a 4hr 1-2-1 lesson to make a sample curtain
You'll learn the method of measuring up and the making techniques - and keep it as a reference.
OR
Book 3+ Stitch Classes to make full size curtains (depending on the size of the curtains, whether you have made a curtain before, whether you can do any homework and your sewing experience) Or 4hrs+ of 1-2-1 lessons
You'll learn the method of measuring up and the making technique with our full support. For a set of two or more you could get help on just one and make the other(s) at home.
* if making very large full size curtains book evening or weekend classes as we can use the corridor for extra space - this is tricky during the daytime as the building is inhabited by other offices. Do contact us with any questions
Find out more about 1-2-1's here
Sewing skill level: To get on with making curtains you'll need to know how to thread up & sew to a seam allowance. We can remind you if you're rusty or teach you to sew from scratchat the start of your lesson. For adults and children aged 13+.
What to bring to sew our small Sample Curtain (76cm longx102cm wide):
Note: All fabric needs washing and ironing before class, unless it is 100% polyester or PU/PVC/Olicloth - or the finished item will never be washed. Check fabric content and any washing/ironing instructions when purchasing fabric
1m curtain fabric. (any non stretch cotton/polycotton is okay, but go for thicker options if available. Any width roll. Avoid velvet or anything with a pile.)
A reel of matching coloured sewing thread.
1m of curtain lining fabric.
1.5m of 3" wide pencil pleat curtain tape. (total cost approx £10 - £18) NOT pinch pleat tape.
A pot of good quality plastic or glass headed dress making pins.
Pre washing fabric and lining is necessary only if the fabric has cotton content, you plan to use this sample curtain in your home, and will at some point want to wash it.
What to bring to the first class sew Full Size Curtains for your home:
To make curtains for your home you'll need to use the first class to plan them, then go buy cloth/tape amount you worked out in class and start making in your second class
Bring these measurements:
- the width of your curtain rail;
- the distance from the little hooks hanging off your curtain rings or track (see sketch below**) to the desired bottom of the curtains
£1 for the planning instructions sheets, which you keep to use again
An extra project as the curtain planning will not take the full first class (alterations, mending etc or see our projects page for other small project ideas)
To the 2nd class: you'll need to bring the planned quantities from class one of fabric & lining (washed and ironed if cotton content), curtain header tape, pins

We provide:
Sewing machine (or bring your own if you prefer - with all accessories, spare bobbins and pedal), scissors, pins, chalk, tape measure, unpicker etc
Where to buy fabric and notions: Suggestions of where to buy your fabric locally will be given on your booking confirmation, or to see our list of local fabric shops now click here
**picture showing where to measure for full sized curtains: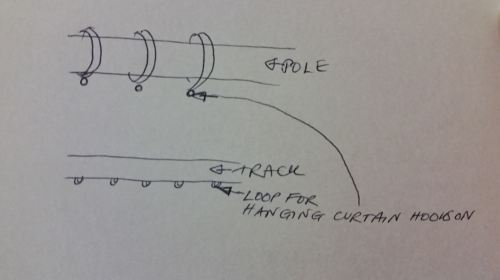 Please do email us here with pre-class or booking questions