Favourite Stretch Dress
Learn how to choose & adjust the correct size pattern, sew confidently with stretch fabric/jersey and quickly run up a fab new dress!
Plus you can use the pattern again to make slightly different styles, lengths, neckline dresses and tops.
Pencil/A-line, mini/maxi/knee length, high neck/low neck, short/long sleeve options available

No. of classes: This project can be completed in 3-5 Stitch Classes - see bring list below for what to bring to your Stitch Class to make this dress
Questions? Email us at [email protected]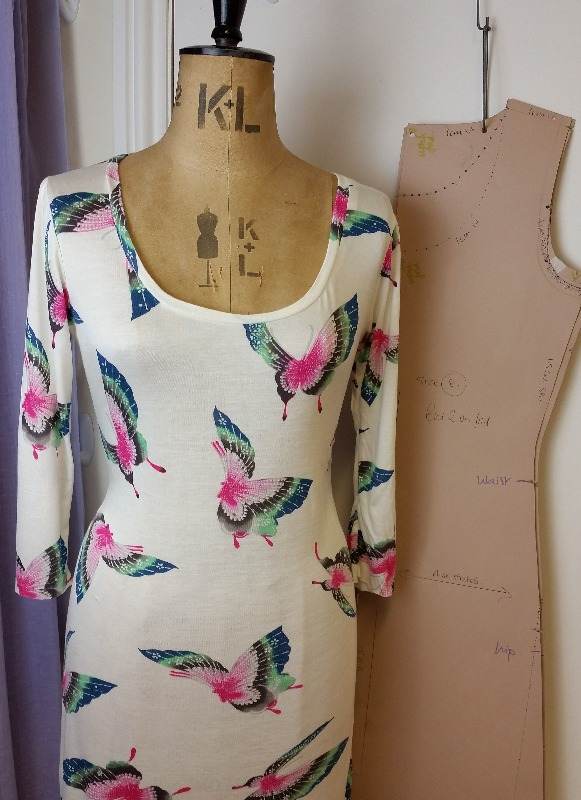 Experience: Suitable for those who know how to thread up and sew seams with a sewing machine and have made at least one item before (though not neccessarily clothing). For adults and children aged 16+.
Sizes: We have patterns in sizes 8-20. If you think you need a smaller/larger size don't worry, you can easily grade your pattern up or down a size in class with our help
Venue: The Sewing Lounge, Hove (click here for information on venue access if you have a disability or injury)

For this project you will:
Take your measurements accurately
Adjust fit/shape/size of pattern and cut out your dress in stretch fabric
Learn best stitches to sew stretch fabric on a domestic sewing machine
Have a go at using our overlockers too if you wish
Adjust the fit and mark back onto your pattern to perfect it
Learn how to apply a t-shirt style neckline and sew easy stretch hems/cuffs
Take your pattern home so you can make more dresses!


What to bring:
Stretch jersey fabric suitable for the dress. Fabric should be a medium weight knitted stretch jersey type (not necessarily a woolly knit, just not a woven/stretch woven!).

If fabric is 44"- 59" wide bring 3m; if it's 60" wide bring 2m (check the roll end in the shop for width) BUT If you are size 18+ please bring 3m regardless of width of fabric. (nb bring an extra metre if you want to make maxi length)
Avoid anything fine or drapey for this first dress
To use our dress pattern to make a long sleeved top instead bring 1.5m of jersey fabric at least 130cm/51" wide

Note: All fabric needs washing and ironing before class, unless it is 100% polyester or PU/PVC/Olicloth - or the finished item will never be washed. Check fabric content and any washing/ironing instructions when purchasing fabric
A reel of matching good quality sewing thread
Wear leggings or tights and a vest under your clothes so you can measure up easily and try the dress on part way through
Glasses if you need them for close up work
Please email us if you have any questions about the workshop - this 'bring' info will be included on your booking confirmation with suggestions of where to purchase.
We provide: sewing machine (or bring your own if you prefer), scissors, pins, chalk, tape measure etc if you don't have your own
Where to buy fabric: Suggestions of where to buy your fabric locally will be given on your booking confirmation, or to see our list of local fabric shops now click here