Dress In A Weekend
A perfect sewing project for someone with only a little experience of clothes making so far!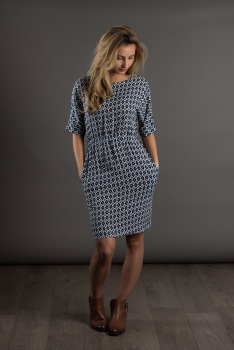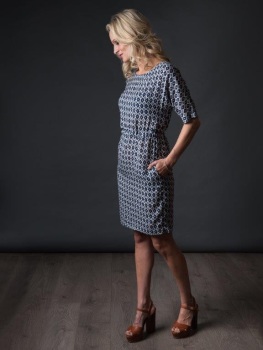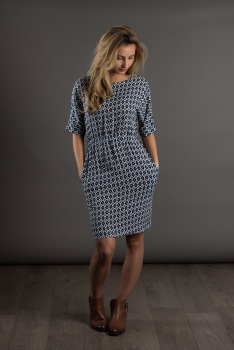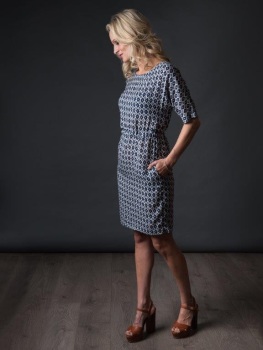 A perfect sewing project for someone with only a little experience of clothes making so far. You'll make 'The Sheath Dress' by The Avid Seamstress, a gorgeous simple dress pattern (take your pattern home with you) that you will want to make again and again in lots of fabrics. The class will be taught by Lisa Falconer - creator of the Avid Seamstress range
The Sheath Dress has a flattering round neckline, optional elasticated waist, optional side pockets and invisible zip at the back. The entire front of this dress is cut as one piece which includes the sleeves. The back is two pieces making the construction of the dress so easy! The neckline is finished with a facing.
Lisa will take you through the construction of this dress and show you a few methods of applying the elastic casing to fit your desired fit. Together with your new preparation skills and using Lisa's sewing techniques your dress will be a work of art.
Your fabric choice will have an impact on the style of this dress, a light fabric will make it a beautiful Spring, Summer dress and a thicker fabric will make this the perfect work or evening dress.
A lovely weekend sewing in a fun, relaxed atmosphere with new sewing friends!
Price: £140
Session: 2 day Course
Course Options:
Course Options:
2 day workshop: Saturday 10th June 2.30pm-6pm

&

Sunday 11th June 10am-4.30pm
Course content can also be covered in 4-6

Weekly Stitch Classes

,

Stitch Weekends

or approx 8 hours

1-2-1 sessions

(You will need to bring your own Sheath Dress pattern* plus bring the list of items

from this page below to your class/lesson. Number of hours/classes depends on experience level, fabric chosen, fitting needed etc)

*Stitch Class/121 makers: buy your own Sheath Dress paper pattern in envelope here.

You will receive a discount code for the pattern in the Bring List section of your booking confirmation email that will give you £4 off to full price of £12. One pattern per person only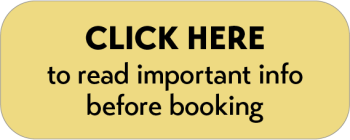 Venue: The Sewing Lounge, Hove (we have stairs - click here for information on venue access if you have a disability or injury)
Teacher: Lisa Falconer, creator of of The Avid Seamstress range of patterns
Experience: For women, aged 16+. Intermediate: You've made at least 2 simple items of clothing with a machine
You could book sewing classes with us if you want to learn some clothes-sewing skills before the workshop - click here for info.
What to bring:
Fabric: Please refer to the image below for fabric requirements. It's important to note that you can only fit size 1,2,3 on to 114cm wide fabric. The pattern works better on wide fabric.



Suggested Fabric: Please use fabric that is easy to work with such as cotton, denim or chambray. Avoid jersey / viscose or "slippery" fabric. If you are in doubt, please send a link to the fabric to

[email protected]

for us to advise.

Always allow extra fabric to match one way designs, plaids or stripes. Please note: Allow extra fabric if you would like extra length. The length from the neck to the hem is between 94cm and 96.5cm (depending on size) and finishes at the knee. If you are tall or want extra length, please bring an extra 50cm on your fabric length. Contact us if you would like further advice.



One reel (at least 100m) of matching colour thread


For lightweight fabric 20cm/8" invisible zipper / heavy weight fabrics 40cm/16" invisible zipper"


If you are making the elasticated waist you can choose the thickness of the waist band to the maximum width of 25mm wide. Please bring 1 metre of elastic.

You may wish to bring snacks or lunch along with you. There are a few local shops that you can buy food from. We will have water, squash, tea and coffee available.
We provide (or bring your own): Sewing machine, scissors, pattern paper, chalk, tape measure etc if you don't have your own
Where to buy fabric: Suggestions of where to buy your fabric locally will be given on your booking confirmation, or to see our list of local fabric shops now click here
Workshop content:
Believing strongly in the importance of preparation, Lisa will teach you sewing skills that you will be able to use for all your future sewing projects such as:
how to take your measurements correctly
how to make adjustments to the pattern to fit your measurements
how to lay a pattern correctly
a great pinning method
the importance of cutting correctly and cutting skills
seam allowances and how to use your sewing machine for accuracy
invisible zips – using a method that will change the way you look at zips forever. You don't need to be a master seamstress to put zips in garments!
Important - please read before booking:
Each person attending needs an individual log in/password/own contact details to book - you cannot book 2 people on at once through one profile/payment as they will not appear on the system.
Your payment and booking confirmations will be sent to you immediately in 2 separate emails - please check they are correct. If you don't receive them, please contact us here.
If the Book Now button does not show next to a class or course it is full.
If you wish to use a Gift Card, Account Credit or Loyalty Points when booking please follow THIS LINK to book directly via our booking system.
Questions or problems? Email us here.