We rent out The Sewing Lounge, including use of all the sewing machines and kit if needed, for:
Working on your own craft, art or sewing project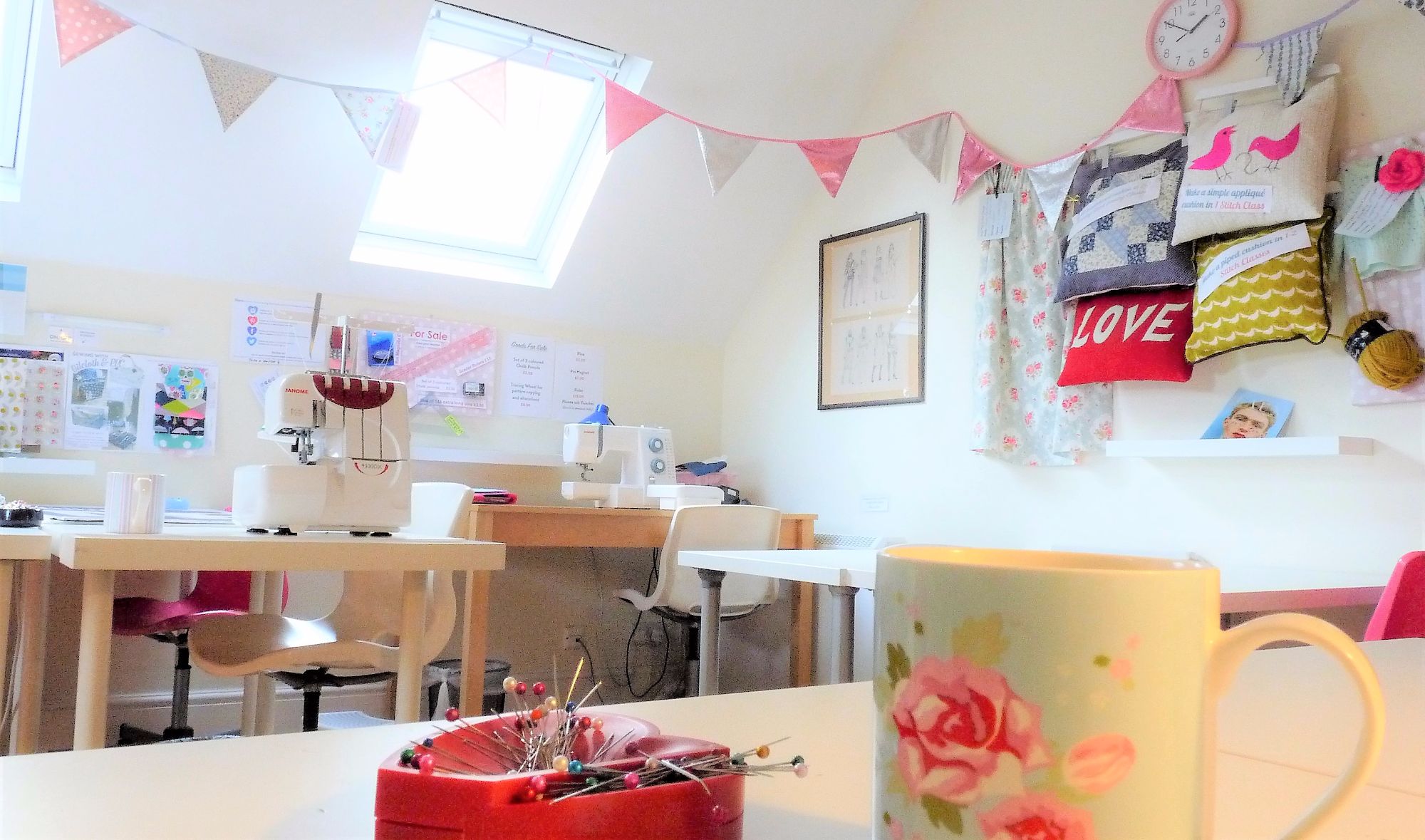 We are based in Hove, opposite the South end of George St, above 'Moss Bros' on Church Rd, in a lovely refurbished Victorian building with kitchen, intercom & reception.
Classes/meetings hire:
Costs £12-20 per hour to rent and is ideal for craft classes, groups, meetings etc. It's lovely bright, quiet space and fits 8-10 students depending on space needed per student. You have use of all the sewing machines, irons, overlockers, scissors etc.
We can offer availability on:
Monday daytime until 5.30pm
Tuesday evening after 6.30
Wed 1pm onwards
Thurs daytime until 6pm plus occasional evenings too
Friday morning until 1pm, sometimes afternoons too & any Friday evenings
Weekend very occasional daytimes, most evenings after 6pm


Weekday Daytime & Friday to Sun evenings price per hour: £12
Weekend daytimes & Mon to Thurs evening Price per hour £20 (negotiable if the dates are soon)
Deposit required with full balance due one month before booking (if booked within one month of start date full amount due to reserve the room
If you'd like to find out more about availability or see the space please contact Kat on 07958964810 or email [email protected]

Price and what's included
Work on your own project in our fully equipped sewing room - great for fashion or art students or other creatives.
Hire includes the use of two 100x60cm tables, plus use of any of our sewing machines, overlockers and other sewing tools. There may be others working in the room at the same time (including us doing admin or sewing!)
- for up to 2 hours is £12 (minimum booking)
- up to 4 hours is £20.
- £5 for each additional hour after that.
Cash preferred if possible

Also:
Covid safe: Please see our Covid Measures page for up to date details on face coverings, sanitisation etc
Refreshments: Complimentary tea and coffee (subject to covid measures, see above). Feel free to bring your own drinks and snacks..
Notions, machines and bobbins: Bring your own thread, zip, interfacing etc. Bobbins are 50p if you want to keep the one you use with our machines, which are Janome 525S. Plus Janome domestic overlockers are available. All machines are max 18 months old or less and replaced regularly
Help/tuition: No tuition/help with sewing machines or overlockers is included in the above price but could be arranged for equivalent of £40 an hour (i.e. £10 per £15 mins tuition) - bring cash ideally for however long you think you may need
Times available:
1 - 6pm on Tuesdays
1 - 6pm most Fridays
Other days and times are usually available - contact us to find out room and keyholder availability.
If you'd like to find out more about availability or see the space please contact Kat on 07958964810 or email [email protected]
Further terms & conditions
If your arrangement involves you being left in the Sewing Lounge on your own or being the last person to leave, we will need to receive a few documents from you for building security reasons. In this case you would need to bring your passport/driving license plus 2 forms of (recent) proof of address ie utility bills. We would also need to receive a £30 deposit paid either in cash or by bank transfer and to be returned via bank transfer, either after your single booking or when you know you wont be returning to use the space.