Buying a sewing machine - guest blog by Ian at Varneys Sewing Machines, Portslade
Posted on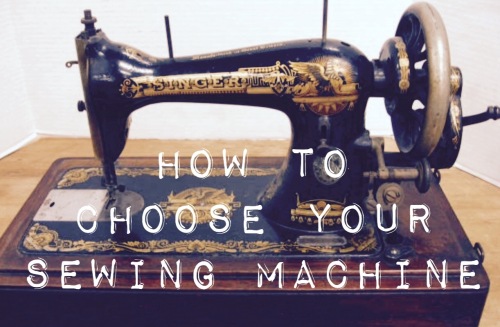 A question we're often asked here at Sew in Brighton is 'which kind of sewing machine should I by, and where can I buy it from?'
We caught up with Ian from one of favourite suppliers, Varney's Sewing Machines over in Portslade. He gave us his hints and tips on finding the sewing machine of your dreams...
"The best advice I can give is to shop locally and somewhere where you can try the machines and ask questions. Nowadays you can buy a sewing machine from lots of different retailers - you can even buy one from a supermarket. But consider these important questions before you look just for the cheapest deal:
What pre sales help will I get before I purchase my machine?
Consider whether your retailer will...
let me try the machine out first and test its weight and how it handles fabrics?

help and show me what the machine can and cannot do?

offer a free "set up" lesson, where they let me thread up the machine and assist me in this?

point out the common mistakes most sewers make and show me how to avoid these mistakes?

check my machine to make sure the machine is working correctly and all accessories are included?
What after sales help will I get after I purchase my machine?
Consider whether your retailer will...
have experience of dealing with all aspects of sewing machines?
show me, face to face, where I am going wrong if I get into trouble immediately or in later years?
quickly repair and service my machine?
supply me with the correct accessories if I decide to add to the machine at a later time?
A specialist sewing machine retail shop should be able to answer YES to all the above questions. Buying a sewing machine is not like buying a book or DVD - most people need a little help in understanding how to work a machine. The help you may need might be necessary immediately after you purchase your machine or several years down the road - we welcome customers who come back into our shop for help with or without their machines.
The new machines offer so many more features than the older models and will expand your capabilities as a sewer.
Prices of new sewing machines have remained low over the years however I would advise you not to fall into the trap of buying a very low priced machine (below £100) as the build of the machine will be cheap and may not lend itself to possible repair. The old saying "buy cheap, buy twice" is true in the sewing world. Also be aware that some large retailers of sewing machines buy discontinued models from manufacturers and do not make this known to the purchaser. This can cause problems when trying to buy compatible accessories or getting parts for repair.
When buying a new machine it is essential that the machine you purchase has the features you desire - that may sound obvious but people often ask "can you add a needle threader/one step buttonholer/needle up or down function to my machine?" . The answer is "No" you cannot add these or other integral features to an existing machine, you need to ensure they are part of your machine when purchasing . That is why it is important to deal with a retailer who can show you the capabilities of different machines before making your decision.
I hope that these few basic ideas will be helpful to you when you consider buying a new machine."Problems or repairs are often a thorny issue if you have not purchased your machine from a retailer with an onsite repair facility. To send back your machine to your original retailer may mean that you need to keep the box and packing that came with your machine. You may also have to pay for delivery and return charges (especially if the retailer on receipt of the machine decides the fault is not covered by guarantee). Delays may be considerable - usually over 10 working days. Remember that you must take problems/repairs to the retailer you purchased from - other retailers will charge for advice/repair as your guarantee does not apply to them..
Sew In Brighton owner Kat always recommends coming along to one of our classes or courses to try out the Janome 525s's we use so you're aware of the features you may want in the machine you buy. We have a cheaper model too so you can try them both and see the difference.

Varney's are based at 56 Station Road, Portslade BN41 1DF (just down from Boundary Rd/Portslade Station). You can find out more by calling owners Ian and Lawrence at the shop on 01273 927111 or visiting their website.
Happy sewing!