How I made my own dress from just a picture. Jacqui Rush - Student Blogger Series
Posted on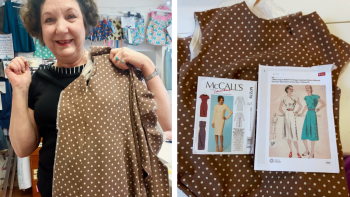 I wanted to recreate the style of the dress in the picture on the right but wasn't sure where to start. I've done a bit of sewing before in the past but that was many years ago and I wanted to do something creative again. I love the 1940's style and it's hard to find vintage garments in my size, so making my own clothes was the perfect solution!
I started my project in January 2018. I came to the first lesson with Kat in Sew In Brighton's Weekly Stitch Classes in Hove with just a picture of what I wanted to make - a 1940s style day dress with a side button detail (that you see in the illustration above on the right), some calico - and lots of trepidation! I was made very welcome and first day nerves were soon dissipated in the friendly, cosy atmosphere of the Sewing Lounge.
First of all we chose a McCall's M7279 basic fitted dress pattern from the stock patterns they have in the classroom, to make a 'block' pattern (basic template pattern with no detail) that fits perfectly to my shape. The brilliant idea is that once tweaked to fit me I could then go on to use this perfected pattern block again and again as a basic template for creating all sorts of beautiful 1940's dress designs (and even skirts and tops from just using parts of it) that I come across.
We 'sculpted' this pattern to my figure by 'tissue-fitting' it to my body, which involved pinning the pattern pieces together as they would be sewn and trying it on me/adjusting it in paper before going anywhere near the fabric! I'd never come across this method before but it seems to be an excellent way to get the fit as close as possible without wasting time and fabric sewing something that may not fit well at first. Then I unpinned it and cut out and sewed the pattern in calico to check and fine-tune the fit, Kat & Jo pinning out any adjustments and showing me how to mark these changes back to the pattern. Once the block finished, I was shown how to draw the new style lines for my 1940's dress onto this block pattern. These were left there to keep a record of the 'plan', and I traced off each of these new shape pattern sections to create a completely new pattern with the same perfect fit of the first dress. I had my hand held every step of the way by Kat and Jo during my classes and I really noticed my confidence and knowledge grew week by week.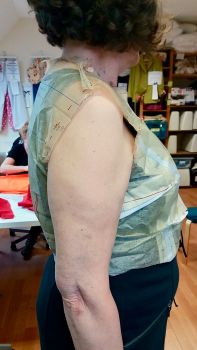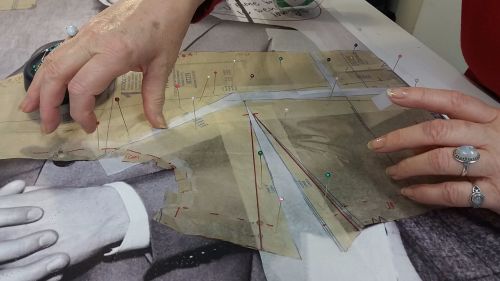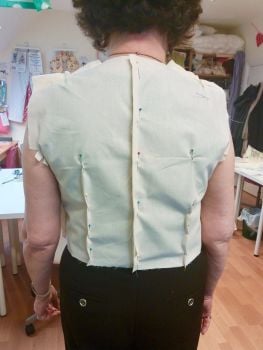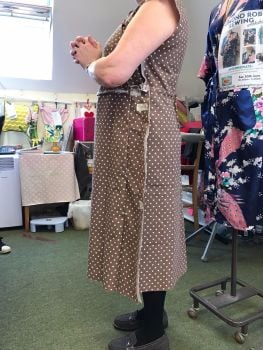 The whole process took 21 lessons to complete ( I came once or twice a week), but I now have a wonderful dress that I've already worn a lot plus a beautifully fitted basic block dress pattern which I can't wait to convert into some more 1940's style tops, skirts & dresses by tracing off sections as I did on the first dress. Plus I loved the classes, they are sociable and fun whilst being very productive - a winning combination! The classes are also very small & relaxed with just 5 people, all making different things - curtains, cushions, yoga bag, children's waistcoats, a gentleman making a Christmas shirt, two teenagers with Mum making pyjamas, skirts and shorts - the list is endless ...
In retrospect my project was very ambitious and at times, a little slow and frustrating because of all the fitting and tracing off which I had never done before! But with the expert guidance and encouragement from the teachers, I gradually learned many new skills.

Ultimately I was thrilled to produce a beautiful tailor-made 1940s style dress, exactly as I had envisaged.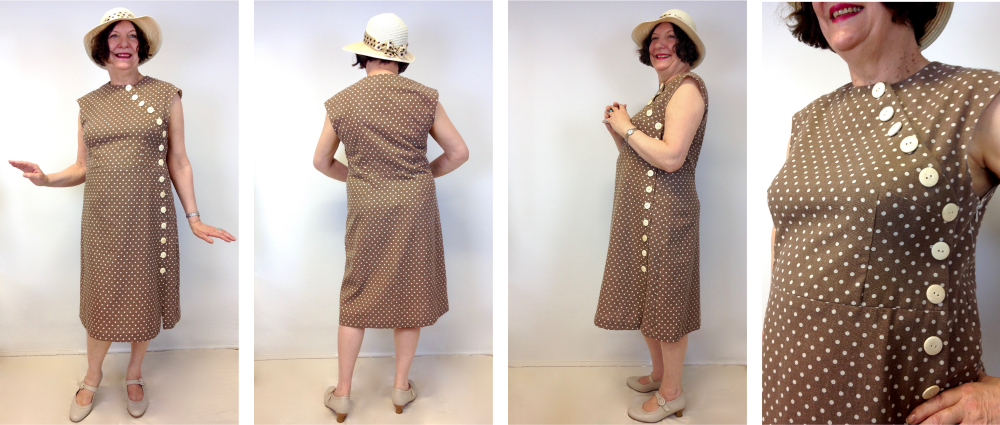 To follow the same process as Jacqui, it'll take about 20
Stitch Classes
plus some homework. This will include working from an image to the completed vintage dress to desired design (and you'll also have a dress block you can use again and again to whizz up new designs)
The skill level for this project is Improver, so add an extra 3 lessons to learn to sew if you are a beginner.
Need more advice? Contact us
here
THE SKILLS I LEARNT:
Taking a McCalls basic 'block' modern dress pattern and re-creating it into a 1940s style day dress.

How to cut out the tissue pattern and fit it to my exact measurements. This involved drawing in the sewing line, pinning the paper together and actually trying on the paper pattern and adjusting it to my figure, including doing what's known as a 'full bust adjustment'.

How to use the newly fitted tissue pattern to cut out and make a perfectly fitting trial garment known as a 'toile' in calico fabric.

How to re-design the dress shape to the 1940s style - using sticky coloured tape on the toile to mark out the new shape of the neckline. Also re-shaping the skirt line.

How to transfer the newly styled tissue pattern on to spot and cross paper, including adding facings for the new asymmetric neck shape.

Laying out the spot and cross pattern on to the fabric and cutting out the dress pieces.

Ironing interfacing on to the facing for the neck and collar, adding to the garment and under-stitching.

Using an overlocking machine to give the fabric edges a professional neat finish before sewing the garment together.

Sewing in an invisible zip with the special zipper foot.

Finally, how to be patient and learn to take one step at a time ………..
Click the image below to view the video of my dressmaking process here: