Charlotte's Dream Corset
Posted on
Charlotte tells us about the inspiration behind the corset she made during Stitch Mornings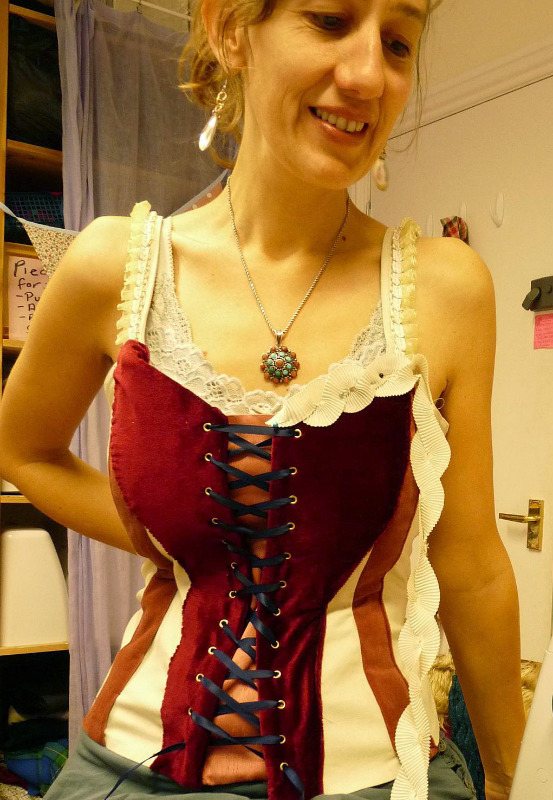 What inspired me to make the corset is that I love period costume...and, imagining that I come from other times or have lived other lives. I had actually had a dream where I was wearing a corset and long full skirt and big petticoat, so I tried to remember the details and draw the outfit. I began by making a gorgeous ruffled skirt.
When I came to making the corset part of the outfit I went online and looked at fashion designers ideas for inspiration and, watched the series Paradise which has beautiful 1890s clothes in it. I was inspired to use rich velvets reds and pinks.
I had an excellent teacher at the Sewing Lounge who encouraged me to try out different ideas shapes and forms to create what I had imagined. I learnt how to adjust and adapt a pattern to create the shape I wanted. I used the overlocking machine for inside seams and the eyelet machine to create a lace-up front.
I intend to wear my corset over a cream silk blouse so that I can wear it as day or evening wear. Definitely to houseboat parties where I normally wear ball gowns anyway :-).
I'm very pleased with the result as it turned out just how I imagined and I really love it.
To find out more about Stitch Mornings which are held weekly on Tuesday and Thursday mornings 10.00 - 12.30, please click here.