Student Blogger: Hairdresser Paul Bally, Part 2
Posted on
Sit down with a cuppa and get stuck into Paul Bally's next installment of sewing adventures. Check back for more updates, this post will be updated with new content every week.
14th September 2021
So today I wanted to get on with the hoodie, I'd cut the tissue pattern down a bit... well lobbed off the seam allowance and hoped for the best! Unfortunately this sent Kat into meltdown as what I didn't realise that this is a common mistake with newbies and it makes the whole pattern become an odd shape with the dots and notches needing to migrate in a certain way. Anyway after measuring, measuring and measuring again Kat guided me on how to fix this issue and by the end of it we were happy with the adjustments. So now for surprise number two of the class... I wanted the two front panels quilted with a pattern fabric, some wadding which I had spent the night before trying to split as it was way too thick and the backing. Kat asked was this in the original pattern, where did I see this or was it in my head? To which I replied "I'm obviously a dangerous designer and yes it's a vision in my head". Out comes the fabric and I've now got to pattern match, another skill with more measuring and planning. Anyway I didn't have time for any sewing as the planning and adjusting was very intricate. Homework I decided to try out my new walking foot attachment. What I realised that after having second hand sewing machine's that always played up I had an irrational fear of changing the feet! I took the screwdriver, undid the nut and replaced it... with no drama and it works like a dream! So my fear was down to not really knowing how to use my machine properly so thanks to the team over the weeks I've realised it's nothing to be afraid of. I long stitched the three layers of fabric together and did a couple of panels through to hold the wadding but I went too fast so unpicked them and will do them again over the weekend.
9th September 2021
Mel took the class. I carried on with the toile and finished it while making notes on the calico fabric to transfer onto the tissue pattern later. I'd saved the trousers for Mel as she had been with me for a lot of it. We did the waistband. The sewing machine got angry with me and shuddered due to the amount of layers coming together at the back seam.
6th September 2021
Kat took the class, I needed a break from the trousers so I started to make a Toile. I had previously cut out the tissue pattern and used calico fabric, cut it out (on my new cutting mat) and took it in.
2nd September 2021
So before the lesson my 10 meters of calico unbleached fabric arrived, so as a good student I pre washed it on 40 degrees and a 1200 spin... omg it was so creased, it looked like a dust sheet! I cut off a bit and re-washed it with no spin and ironed it wet, still creased! It then took me over an hour to iron the rest of it as best I could, time I'll never get back! Anyway I pinned and cut out the hoodie pattern with my new cutting mat and rotary cutter (panicking I'd end up in A&E with severed fingers). The class was nice and relaxed, the welted pockets were misbehaving but I'd not sewn down the flappy points. Prepared the belt loops, unpicked six holes, poked them through and re sewn over the original hem. Mel decided she couldn't live with my mismatched centre seam (along with Kat) and even though I said you wouldn't see it as it would be covered (trying to blag it again) she said she would always know it was there... so as I'm a fan / professional at unpicking I whipped out my tool and well, undid the seam again! Why do it once when you can do it again, as my dad always used to say doing DIY.
31st Aug 2021
Feeling like I'm back at school this morning waiting for the teacher to mark my work lol!
My model came with me to model the trousers and Kat said how nice they were looking! Phew!The waistband was the same tricky explanation, didn't fit properly and the instructions wanted some crazy stitch and push through belt strap that we all agreed was going to be impossible to do with most suit trousers fabrics. Kat also has a new teacher with her and they went into problem solving mode to work out what had happened, whipped out a ruler and found the offending centimetre! Couple of repair stitches (forgot to tie them off) and a pin/ stitch top layer of waistband was on. Little buckle in the seam so will unpick this later and re do tonight. Before the end of the lesson I asked Kats advice on my next project as I want to use a fabric with a nap (direction of fur, fluff, cord or something like that) and want to incorporate some quilting techniques for a sport's hoodie. I feel after these two technical pieces I need something quick, simple and bright. (the shorts will have to wait as the weather has gone cloudy and cold) Lots of pics etc, thank you for today! Really enjoying the difficulty level.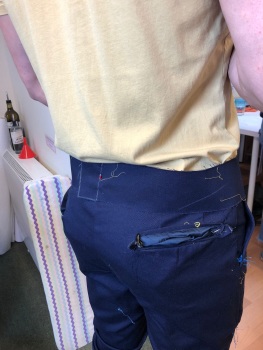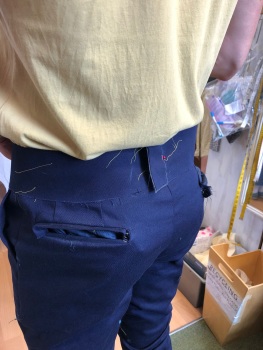 26th Aug 2021
Love these evening stitch classes! Had Phil again tonight. These suit trousers are proving to be a bit complicated (for me anyway) I did the seams to close the leg and the bottom area. At last some easy seams! Well my excitement and joy didn't last long as my model (my partner) said "hmm., they are a bit baggy, they feel a bit like a boiler suit!" As the tears started to well... not really, I just took a sharp pin to the inside leg! I didn't have the heart to tell him he has a suit jacket on the horizon! Phil was so professional and guided me to where to adjust for homework, showing me how to pin and mark on the inside and how to take the measurements. Homework was done over the bank holiday, I had to get this "boiler suit" image away. So after various seams these trousers went from boiler suit to riding jodhpurs to fashionable skinny leg! Making clothes is like the most difficult jigsaw puzzle, I think the meaning of life would be easier to solve. Anyway hopefully I've done the adjustments ok ready to do the waistband?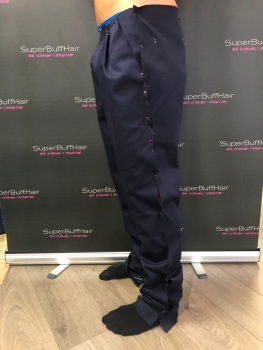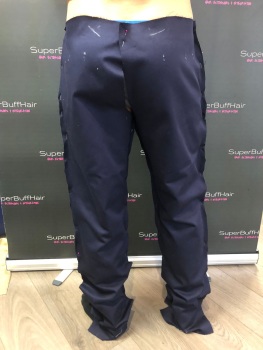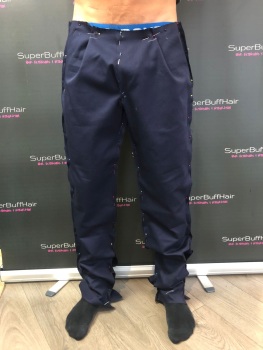 25th Aug 2021
The welted pocket saga continues! Mel had the pleasure again today. I'm sure the teachers secretly hope I've finished all the complicated bits lol! Anyway with lots of cutting, folding, unpicking, flipping, ironing, squishing, the welted pockets are done! Thank you to all that were involved!

24th Aug 2021
Naomi today, full class with lots going on. It was quite technical with lots of matching up dots, Taylor tacos and notches? Welted pockets are on the menu today. I'm glad as I enjoy all the difficult bits of sewing, I think I am becoming obsessed with the construction of clothes! Most of the lesson I was confused, in a good way. Her words of advice were, " it's like magic when it's done, but until you get there it's hard to work it out" I'm sure Kat said something similar a couple of days ago.

23rd Aug 2021
Just three of us today, which was just perfect as Mel had time to breathe and even lend a hand at unpicking, which I was truly grateful for. I feel I'm an expert in unpicking! I was attaching the zip today, the excitement of using a different presser foot was exhilarating! All these years I have struggled with the regular foot, not getting close enough to the zip and there was a specific foot for it! Again lots of pinning, folding and praying and voila, it is central.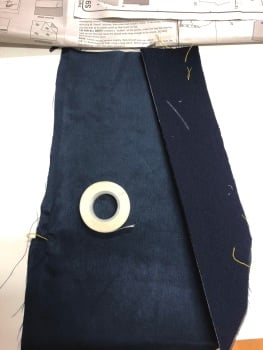 19th Aug 2021
Today was slippy lining fabric day! This was to make the pocket lining/ bag/ sack. This gorgeous deep blue fabric is testing my patience, it is very floaty and likes to Frey. The stitch length needed to be adjusted to a longer one as it was pulling a little. Once you know this, sewing becomes enjoyable again.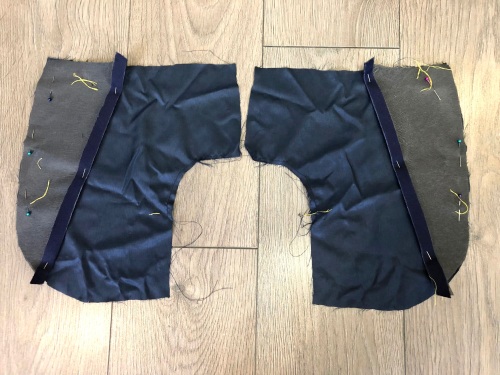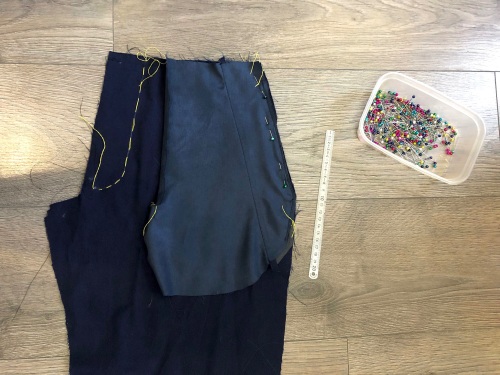 18th Aug 2021
So, update on the shirt, I've completely messed up the button holes at home!!! I'm still getting used to my new machine (I take it to class also) I thought I'd marked them correctly, did a test one and thought let's do this and put the shirt in the opposite way and we'll out of seven attempts only two were where I wanted them… have you ever tried to unpick a button hole? Me neither lol!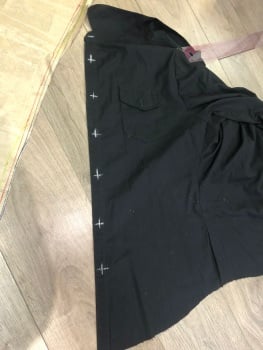 Anyway, rather than deal with unpicking I've started a new project, suit trousers. (The shirt is finished but the presentation will be later.)
Today Kat was in, I apologised before we started that I didn't understand the instructions to which she replied "oh don't worry you just have to read them slowly".
Well after a few attempts she agreed that this was going to be difficult. She did make me laugh saying these "squiggles" here are "air" !?! I mean that wasn't in the key code! Air!!!
So, this piece numbered 21 (with the air behind it) was actually a tiny pocket on the front waistband. Now that we know it's a pocket the instructions seem really clear now!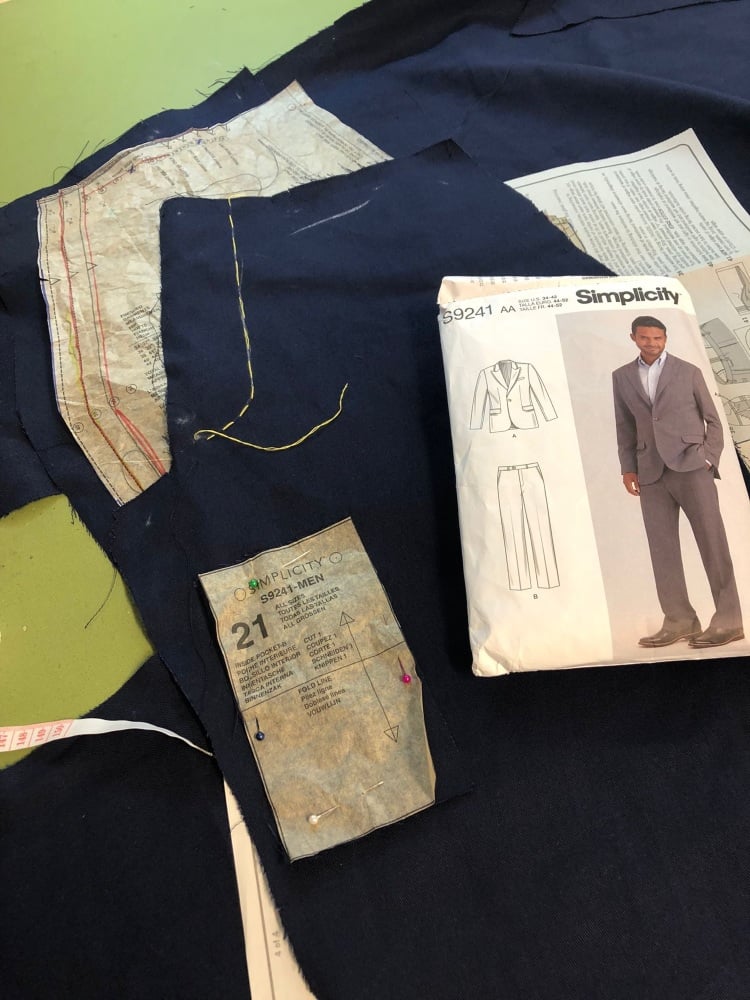 As Kat said "don't worry if it doesn't make sense, it will all be revealed" I'm sure these sewing pattern manufacturers do this on purpose (or I'm just being stupid)
Again, I loved the class, there was one lady using the serger overlocker, and she was sewing like a true professional. When I grow up I want to be as good as her! And yes I've put this machine on my Christmas list also!
After the class I popped into Brighton to C&H fabric store to pick up some lining for the trouser pockets and Gutermann thread. Washed and dried the material ready for the next class tomorrow!